F-22 Meets Fourth of Five 1999 DOD Flight-Test Criteria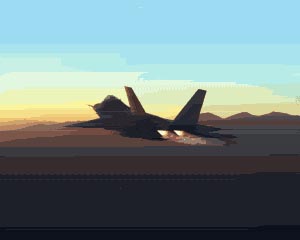 WRIGHT-PATTERSON, AIR FORCE BASE, Ohio (AFPN) --
The Air Force's new air superiority fighter, the F-22 Raptor, flew in excess of 60 degrees angle of attack during flight testing Aug. 25, at Edwards Air Force Base, Calif., reaching another milestone and satisfying another flight-test requirement mandated by the Department of Defense.
The milestone, combined with extensive, high angle-of-attack maneuvering, completed the fourth of five flight-test criteria established by DOD and the Air Force for 1999. The flight-test criteria, along with other program requirements, must be completed successfully to demonstrate to defense department officials that the F-22 is ready for Low Rate Initial Production.
"We've met the requirement to demonstrate high angle of attack post-stall flight with thrust vectoring for the Defense Acquisition Board's program review later this year," said Brig. Gen. Michael Mushala, F-22 program director. "With only one more '99 flight-test requirement to meet, I'm confident that our team will rise to the challenge."
Mushala heads the F-22 System Program Office, which manages development of the Raptor here at Aeronautical Systems Center.
Flight-test criteria already met this year includes: flying at an altitude of 50,000 feet; opening side and main weapons bay doors in flight; and supercruise -- flying at 1.5 Mach or greater without afterburner. A fifth requirement, flight in specific, high-speed regions of the F-22's envelope, is expected to be completed before the Defense Acquisition Board convenes in December.
The DAB, chaired by Dr. Jaques Gansler, undersecretary of defense for acquisition and technology, will determine if the F-22 program is mature enough to move to the LRIP phase of building fighters that will be flown in the field by operational line pilots.
Meeting the five prescribed flight-test criteria is necessary for the board to grant full contract award for the program's first six production F-22s, or Lot 1, and advanced-buy contract award for Lot 2, which represents 10 production F-22s.
So far, the program's two flight-test aircraft, located at the F-22's Combined Test Force at Edwards have flown more than 150 sorties and 330 hours; collected more than 4,500 ground and flight-test data-points; and demonstrated flight at 7 G's. The F-22 also made its first supersonic run at 1.2 Mach with weapons bay doors open, and the engine has remained stall-free throughout the high-alpha flight envelope explored to date.
"We're delighted with the results of the high angle-of-attack testing," said Tom Farmer, director of Pratt &Whitney's F119/F-22 program. "This test demonstrates that attention to engine stability and operability in the design phase has paid off. "
A third flight-test F-22 is expected to fly early next year. The fourth flight-test F-22, the first Raptor with its advanced avionics installed, is scheduled to fly next summer. In all, there will be nine flight-test F-22s in the engineering and manufacturing development phase of the program.
The first six production F-22s will support operational test and evaluation at Nellis Air Force Base, Nev. The F-22, the Air Force's chosen replacement for the aging F-15 air superiority fighter, is being developed by ASC to counter lethal threats posed by advanced surface-to-air missile systems and next-generation fighters equipped with launch-and-leave missiles.
Air Force to get six F-22s in 2002 (USAF ONLINE NEWS, November 17, 1999)
By Staff Sgt. Cynthia Miller, Headquarters United States Air Force

WASHINGTON -- The Air Force will acquire six test F-22 aircraft in 2002 with funds provided by Congress in the budget resolution passed Oct. 5.
In the resolution, Congress delayed production of the F-22 from December 1999 to December 2000, and cut funding by $560 million to make the Air Force justify the F-22's cost and prove its technology.
Instead of getting six production aircraft to complete operational testing, the Air Force will now receive six test aircraft.
"These six airplanes will be operational test and evaluation airplanes, because they come from research and development funds, but they will be production airplanes," said Maj. Gen. Claude Bolton, executive officer for fighter and bomber programs.
"You won't be able to tell the difference between what that aircraft will look like in a year or two, vice what it was going to look like before we had to change the 'color' of money," he said.
With an aging fleet of F-15s, and the ability of adversaries and allies to match technology, the Air Force has embarked on a modernization program to maintain its edge on military strength and air dominance.
According to General Bolton, the F-15 is on par with four other aircraft, including the Russian MiG-29 and MiG-35, the French Mirage 2000 and the Euro-fighter.
"There's only so much you can do after 30 years with an air frame," the general said. "We've had a 100.5 to zero kill ratio with the [F-15]. We've not lost any F-15s to enemy fire. That's obviously something we want to continue into the next century."
The Air Force plans to buy 339 F-22 aircraft to replace the F-15 fleet. General Bolton said he expects the F-22 to give the United States the edge in air dominance for the next 30 years or more.
The F-22 is designed to face modern adversarial aircraft equipped with advanced air-to-air missile systems and against integrated air defense systems with improved surface-to-air missiles.
"That is a threat we have not faced yet with the F-15," General Bolton said.
"And we don't want to because the results would not be good.
"What will allow us to face that threat is the F-22. That's what it was designed to do. So we'll be able to continue what we've enjoyed, which is air dominance. That's not just going up and controlling part of the sky, but going up and totally dominating the air battle to the point where if someone does come up, they know we can take them down."
The six F-22s, slated for delivery in 2002, will cost the Air Force nearly $85 million per plane, and will be based at Nellis Air Force Base, Nev.
"The F-22 is an essential investment to achieve air dominance. It is the key enabler for 21st century combat operations," General Bolton said. "The reason the Air Force is pushing so hard on this aircraft is that it is truly a cornerstone for us," the general said. "If we don't control the air, we cannot protect AWACs [Airborne Warning and Control Systems]; we cannot protect Joint STARS; we cannot protect other force packages; and consequently, we can't help our colleagues on the ground or on the water. "