New Product Introduction
Disclaimer: The information herein is provided by the manufacturer. Aerosphere has not tested and evaluated this product.
WingWalker
Have you ever strained your back while pulling your aircraft out of its hangar? Or even worse, caused expensive damage to your plane's tail while maneuvering into a T-hangar?
Then you need WingWalker! Because WingWalker, with a simple rugged design, allows you to move any light single or twin-engine aircraft forwards or backwards with very little effort. This unique, patented design is now available for every pilot who needs a little help to move his aircraft safely and accurately.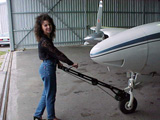 The WingWalker is made almost entirely of high quality steel that has been specially powder-coated for corrosion resistance and durability. All parts have been manufactured to within close tolerances to withstand the high stress and load placed on the unit. Whether you fly a Cessna 150 or a Beechcraft Baron, the WingWalker's detachable and interchangeable forks make moving a breeze. You can even specify your unit's gearing when placing your order to ensure that the unit is suitable for your aircraft weight and ground surface conditions when it arrives, with no further modification needed.
Inventor Gary Wiblin, a flight instructor and former toolmaker based in Port Elizabeth, South Africa, endured many nights of backache after hauling aircraft into and out of hangars before deciding he'd had enough. So he designed and built the WingWalker for pilots and owners just like himself.
But you know what the best thing about WingWalker is? It doesn't refuse to start just when you need it most! And it doesn't make an awful racket. It's light enough and small enough that you can easily take it with you in the aircraft. Best of all, it's inexpensive. $385, plus $75 shipping anywhere in the U.S.
Dealerships have now been set up worldwide and the product has so far been sold in North America, Canada, Britain, and Malaysia, with requests for dealerships coming in all the time. For more information contact Gary Wiblin garywiblin@worldonline.co.za