Weather Resources...
What's the ultimate source of all weather products? That´s right. The U. S. Government. Your mighty tax dollars at work for you. All other weather products are repackaged information from the National Oceanographic and Atmospheric Agency´s National Weather Service, NWS.
Click NOAA for the National Oceanographic and Atmospheric Agency´s Home Page if you want the full boat--everything this agency does. It´s a nifty site if you´ve never seen it.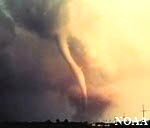 Or Click NWS to go directly to ALL weather products.
PILOTS go here! This contains all the information that´s found in DUAT: Area forecasts, Terminal Forecasts (TAFs), METARS, Winds Aloft, SIGMETS, AIRMETS, etc. CLICK AWC.
But if you want weather for flight planning, use DUAT if only because you can also file your flight plan. Just CLICK HERE.
For a another terrific new weather product go to Interactive Weather Information Network, IWIN. This has neat graphical representations of continental, area and local weather, updated continuously.