AERONAUTICS
Articles on Various Aeronautical Topics
See the Future: Lighter-than-Air Ships Do the Heavy Lifting May 2005
* * *
See the Future
By Pamela M. Daroff
In modern history each century has seen at least one dramatic quantum leap in human understanding of technology and industry relations. In 1457 Johann Gutenberg developed the printing press, which forever changed the availability of accumulated knowledge. In 1492 Columbus verified that the earth is round. The true impact of this knowledge changed the nature of naval exploration in the 1500's and launched the intersection of Asian, African and European cultures wherever they abut naval access. The 1700's witnessed the harnessing of steam power and its application to ocean-going navigation, "rescuing the mariner from the dangers of wind and water." In the 1900s Wilbur and Orville Wright captured the essence of powered flight and humanity's horizons escaped the bonds of coastal or river access. Post modern history promises more of the same. The early years of the 21st Century may well witness the release of world-wide international trade from the confines of infrastructure and cargo size limitations through the integration of naval, air, and lighter-than-air technology.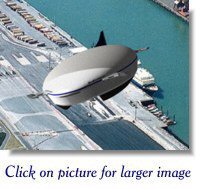 Lighter-than-air (LTA) aircraft were first used for directed purpose during World War I (WWI). Between WWI and 1937 lighter-than-air aircraft were put to a multiplicity of uses and airship technology advanced along several lines. The fantastic crash of the Hindenburg, however, ushered in a slow decline in airship popularity among the general population. That, combined with the apparently insurmountable LTA steering problem, ultimately relegated airships to curiosity status or playthings used primarily for advertising purposes.
In the late 1990s several new lighter-than-air ideas were born driven by a stated commercial need to transport heavy and large or project cargo. Despite some ten years of design effort, low altitude controllability and the need for ballast exchange continue to drive the search for a usable lighter-than-air heavy-lift carrier. Gil Costin, a visionary of the 1990's, has quietly carried forward research into these issues. His newly developed Integrated Thrust and Maneuvering Management System (ITAMMS), based upon existing Coanda technology, may well prove to be the breakthrough required to overcome both controllability and ballast exchange requirements and bring about a paradigm shift in LTA aircraft use.
Gil Costin founded Millennium Airship Inc. in 1997 to develop an aircraft called SkyFreighter™ which uses ITAMMS and ThrustWing technology. He has also established a working relationship with major aerospace manufacturing firms and other lighter-than-air industry experts to ensure the viability and full development of a FAA certified SkyFreighter™ air vehicle.
ITAMMS, a truly innovative propulsion control system, combined with selective thrust applied at each of four "ThrustWings" attached to the SkyFreighter™ provides complete controllability and reduces the need for ballast exchange during loading and unloading. ITAMMS also allows SkyFreighter™ to operate without a ground-based reception infrastructure, including ground crews, and to take off and land vertically, thereby eliminating the need for landing strips or airfields. An additional bonus for SkyFreighter™ is that its amphibious quality allows it to operate safely and efficiently from water surfaces. SkyFreighter™ traveling at an average speed of 100 knots can cover 6,000 miles nonstop without the need to refuel.
SkyFreighter™ is a hybrid, semi-rigid, amphibious, ultra heavy-lift aircraft designed and developed around proven LTA technology. State of the art computing, avionics, propulsion, and advanced materials technologies are being coupled with ITAMMS to provide all FAA required flight deck controls and safety requirements.

SkyFreighter's™ cargo bay, expected to have a maximum size of 288 feet by 60 feet with a 40 foot ceiling will be accessed by loading bay doors/ramps front, rear and side, proportionate to the size of the cargo bay. The cargo bay can be configured to handle diverse cargo applications from raw materials, and containers, to fully assembled manufactured products; especially oversized, bulky, project cargo or even prefabricated special units such as "clean room" medical facilities. SkyFreighter™ combines the heavy hauling capacity of sea-borne vessels with the speed of aircraft and presents a paradigm shift in freight movement.
Mr. Costin's overall SkyFreighter™ design concept has received support and praise from both commercial and military sectors of society. David Yokeum, President of World Cargo Alliance Family of Logistics Network, in a letter to Millennium Airship, dated September 13, 2004, states,
This Millennium Airship "SkyFreighter" program has definitely met the criteria of the World Cargo Alliance Family of Logistic Networks to seek new and productive ways to enhance and expand the capabilities, reach and diversity of the projects our organization is involved with, thus providing a competitive edge for our members, particularly in so far as it has the potential for quick and economical forwarding of goods from point A to point B with minimal intermediate handling, and to open new markets for many of our member companies.
Perhaps the most important indicators of commercial commitment to LTA heavy lift capacity are the letters of intent presently held by Millennium Airship Inc. Three customers have expressed intent to order a total of six air vehicles between them. Millennium Airship Inc. continues to receive serious inquiries of interest from oil companies working in remote areas, logging and paper interests, universities interested in tropical canopy exploration, and humanitarian organizations.
Military interest has been slower to generate; however, developments in the Middle East are now driving a stated need for point-to-point delivery or "fort to fight" capability of entire fighting units complete with equipment. It will most likely be the military interest in LTA heavy lift, global reach aircraft that will provide the impetus required to transform world-wide heavy cargo movement.
Specifically, U.S. Defense Secretary Donald Rumsfeld's challenge to the military is to develop the capability to be able to deploy to a distant theater in 10 days, defeat an enemy within 30 days and to be ready for an additional fight within 30 days. Retired Vice Admiral Arthur Cebrowski, Director, Office for Force Transformation, was quoted in the August 5, 2004 issue of Inside the Pentagon: "Transportation and battle field mobility has become the long pole in the tent; which means that change is likely." He went on to state that their office is exploring how airships can provide lift capabilities that increase the volume of goods that can be transported, while delivering them faster to war fighters-- even those who may be in hard to reach areas.
Military interest in heavy-lift LTA aircraft has recently been matched by U. S. Congressional funding of programs for development of prototype, scalable global reach LTA aircraft able to carry 30 tons. The ultimate U. S. military goal is an air vehicle that will lift 500 to 1000 tons and fly 12,000 miles within seven days. SkyFreighter™ is capable of fulfilling all of the published U.S. military requirements.
If military need and funding provides the impetus for LTA development, it is the weight of commercial vision, technology and economics which will carry its momentum forward. The September 20, 2004, Aviation Week and Space Technology reports that at the Air Cargo Forum and Exposition held in Bilbao, Spain, a statement was made "that the commercial air freighter fleet must double in the next 20 years." Medium wide body and large cargo aircraft are expected to lead this growth. A MergeGlobal Inc. market research study done in 2001 estimated that up to 200 LTA aircraft will be needed in the next ten to twenty years to fulfill all potential commercial missions. Additional units will be required to fulfill military requirements.
Production forecasts for SkyFreighter™ indicate that between 2007, when the first 30-ton lift SkyFreighter™ is expected to be FAA certified, and 2015, an aggressive production schedule of approximately 88 additional SkyFreighter aircraft of varying lift capacities will be produced. Based on Boeing World Cargo Forecast market growth predictions, this production rate will translate into a ton mile capture rate of barely 10% of the growing market demand for heavy-lift cargo transportation.
Underdeveloped markets will also benefit significantly from the vertical takeoff and landing capabilities provided by LTA and ITAMMS as SkyFreighters™ thus equipped do not require air- or sea-port infrastructures. Not only will market newcomers be able to avoid currently overcrowded ports of entry, they will not have to build expensive infrastructures prior to market entry which may contribute to additional heavy lift global reach market growth.
In summary, Millennium Airship believes that the time for a paradigm shift in the commercial freight logistics system is now. Global reach, point to point heavy lift reduces the remaining barriers of culture and geography and provides a quantum leap into the common future of industry, technology and transportation.
For more information contact:
Pamela M Daroff, Marketing Director
Millennium Airship Inc. Bremerton National Airport
8850 SW State Hwy #3 Ste. #1
Port Orchard, WA 98367
Phone: 360-674-2488
Fax: 360-674-2494