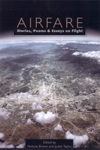 AIR FARE
Stories, Poems & Essays on Flight
Edited by Nickole Brown and Judith Taylor
Sarabande Books. 256 pp. $16.95 (paper)
By Carlton W. Austin
Like a neutron star AIR FARE, Stories, Poems & Essays on Flight is small and dense with a huge gravitational attraction—for anyone who enjoys fine writing on the subject of flight.
Edited by Nickole Brown, director of development and marketing at Sarabande Books and herself a poet and fiction writer, and Judith Taylor, award-winning poet and teacher, AIR FARE offers a smorgasbord of human experience in the realm most alien to our species: the heavens above us. Or, as poet Alfred Kreymborg put it, "That beautiful old parchment in which the sun and moon keep their diary."
Beautiful, yes, and from time immemorial beckoning with the promise of lightness of being, of release from Earthly woes, of freedom. But the lure has a hook, for there is nowhere mankind (that includes women!) has yet ventured that is fraught with as much anxiety, foreboding and downright fear. Yes, soaring to the heights can be frightening.
So it is that much of this collection seethes with angst. As pilot Diane Ackerman observes in one of two excerpts from her On Extended Wings, one of eleven prose pieces in the anthology, "I don't need to fly because flying doesn't frighten me; I need to fly even though it frightens me, because there are things you can learn about the world only from 5,000 feet above it, just as there are things you can learn about the ocean only when you become part of its intricate fathoms."
Yet as Charles Harper Webb's "Reservations Confirmed," a poem about being a commercial airline passenger, clearly demonstrates, the gnawing anxiety that accompanies many an excursion into the airy realm is felt most acutely by those who know the least about the intricacies of flight:
Lifting my ticket, do I hold a bon voyage,

Or boiling jet streams, roaring thunderstorms,

The plane bounced like a boat on cast-iron seas,

Then the lightning flash, the dizzy plunge,

Perfectly aware (amid the shrieks and prayers)

That, live or die, I won't survive the fall?
And finally on the subject of fear—though there are many more examples I could cite—Kevin Prufer asks in "Sensual Disaster":
Who wouldn't choose to die this way, without warning?—

If, silently, the airplane should open like a toy.
Despite the fearful thematic thrust of many of the poems—and even some of the prose pieces— there are other much lighter passages that will lift you up like rising air currents lift a glider. Marilyn Nelson Waniek, in her "Lonely Eagles," pays a haunting tribute to the sacrifices of—and the injustices suffered by—black airmen in World War II. Here, in a poignantly touching memory, the hardships of life at the edge of death give way to a somber rite of friendship. "If you could find a fresh egg/ you bought it and hid it/ in your drop-kit or your boot/ until you could eat it alone. /On the night before a mission you gave a buddy/ your hiding places/ as solemnly/ as a man dictating/ his will."
Make no mistake; this is not your typical aviation fare, no pun intended. Indeed, Co-Editor Judith Taylor informs us in her introduction that "In spite of the unspeakable tragedies involving airplanes, my impulse, as I was putting together this collection of poems, was to honor our original concept—to make an anthology of literary works inspired by myriad aspects of flying." Yes, that's literary as in the kind of writing many people regard as being enjoyed largely by those seeking academic credentials.
But happily this is not the case with AIR FARE, for there is some truly beautiful—and very readable—wordsmithing here, supporting worthwhile, if unusual, facets of life and flying. With dreamlike surrealism, you almost can feel yourself drifting above it all in William Matthews' "39,000 Feet": "…the towering curds and paling wisps/ of clouds; the blue, sourceless amniotic light/ in which the world, hidden by clouds, seems/ from 39,000 feet to float." And the tribute to the first woman to orbit the earth, "Lt. Col. Valentina Vladmirovna Tereshka," by Kelly Cherry, is alone worth the price of the book.
That said, to me, much of today's poetry, no matter the subject, is self-referential, overly idiosyncratic and, sadly, incomprehensible to the average reader. A case in point is Brenda Hillman's "Symmetry Breaking." Poems like this remind us that poetry is writing at the frontiers of language, where words begin to fail the underlying emotions, even for the most skilled practitioners. Still, this clunker is the exception in an otherwise stunningly exciting new book, and it is more than balanced by the above-cited pieces and others too numerous to mention, as the anthology contains a total of 45 works, 34 of which are poems.
As much as I enjoyed the poetry, it was the prose pieces that really made a deep impression on me. True, some of them involved "aspects of flying" only by a leap and a stretch, like Natalie Serber's "This is So Not Me," which just barley makes the cut. But even here there are important lessons to be pondered.
In this sour yarn, a young woman who married for all the wrong reasons finds herself with an infant, an older, annoyingly fastidious husband and aching nipples at flight level 350. She's a skunk of a woman, really, as her inner running monologue reveals, and not convincingly capable of the small act of kindness she ultimately performs. Nevertheless, like the other works, it is extremely well written and, in its narcissistic way, interesting. The description of what it is like to be a nursing mother is astonishing for its honesty and physiological detail, if painful to read. You'll look at your own mother with different eyes, I promise you. And come Mothers' Day, you'll feel obligated, at the very least, to find her the best card and the prettiest floral bouquet available. Come to think of it, Ms. Serber's story would make terrific required reading for any teenaged girl thinking of launching into a frenzy of pre-age-of-majority sexual escapades, or, for that matter, any woman thinking of having children: it's great birth control.
One happy consequence of reading this book was a belated introduction to Ian McEwan, a British author about whom I'd read much without ever sampling his highly regarded and much-acclaimed body of work, which includes the Oprah Book Club favorite Atonement, published in 2001 and winner of the National Book Critics Circle Award, among others.
In a slice of Enduring Love, McEwan's latest novel, the protagonist is part of a failed attempt to rescue a storm-tossed balloon. His life is changed irrevocably when he witnesses the tragic death of a stranger, who moments before was next to him, struggling to save a small boy who lay paralyzed by fear in the balloon's basket. Transfixed, he watches as the man, who has held on to a tether a breath's duration too long, is swept up and up, too high for safe return, his longevity now measured in mere heartbeats. "And then he let go. Even then, there was a fraction of time when he barely fell, and I still thought there was a chance that a freak physical law, a furious thermal, some phenomenon no more astonishing than the one we were witnessing, would intervene and bear him up. We watched him drop. You could see the acceleration. No forgiveness, no special dispensation for flesh, or bravery, or kindness. Only ruthless gravity. " No one, it seems, could have described better the cruel toll the random world exacts in its ironical indifference to human altruism.
And there is so much more in this marvelous little wonder of a book. There is a trenchant piece by former Air Force flyer Kim Ponders, "How Bluegrass Saved My Life," which quite inadvertently, I'm sure, gives a most compelling argument why women should not be allowed in military combat units, especially not on ships or in multi-crew aircraft. A chilling excerpt from Margaret Atwood's Cat's Eye, detailing a soul-sick act of terrorism on an airliner, brings back horrific memories of dissolving World Trade Center towers and the determination of the United Airlines Flight 93 passengers, whose collective heroism probably saved the White House or the U.S. Capitol.
But my favorite prose piece, being a pilot and aerobatics lover myself, is "Night Flying," by pilot Russ Franklin. In fact, only a pilot could have written this story, which is so rich with the sights, sounds and feel of twisting and turning through the heavens to tunes played by Newton's delightful laws. Listen as Cedar, a 17-year-old trying to come to terms with his father's imperfections, takes a moonlit ride with his dad in a Great Lakes biplane: "The altimeter said 800 feet, and we were still headed down. Leveling close to the water, I got a sense of velocity for the first time—100 knots of airspeed—and it felt good, strong, dizzy. The beach came fast under us, and he banked hard left, wingtips pointed toward the ground. Ahead were the trees of the Cumberland seashore and then he threw us in a roll the other way, upside down. Treetop level, the world rushing by below us. I couldn't help but smile. I even laughed, holding onto the bottom of my seat." Yippee! That's just about the way it feels!
Though ultimately "Night Flying" is a sad tale, one which details a broken marriage, alcohol abuse and their effects on young man in the throws of character formation, it is also a story of the struggle to reconnect, to re-forge severed bonds, to resist the natural entropic forces that always fight to pull things—and people—apart. And it's a splendid portrayal of one man's infectious passion for flight—a good read.
I conclude, as this magnificent book does, with Susan Stewart's poem "Flying." I give only a glancing mention, for I wouldn't want to spoil the experience for you. Let me just say that the poem chisels the crispest image one could imagine of the primal emotion that is a passion for flight.
So, if you've never flown but wonder what it's like, you should read this book. If you have flown as a passenger, you'll recognize your own emotions, both good and bad, in every page. If you are a pilot, you'll see yourself reflected in myriad indelible images; you'll be drawn back by memory to a hundred different experiences; and you'll want to read—and reread—each and every privileged glimpse into the human heart of flight, and be left wanting more. It's a must-have for any aviator's library. Get it!