Going My Way?
Air Force gives contest winner chance of a lifetime
By 1st Lt. Lars Anderson, Air Force Public Affairs Media Outreach Office
image by Staff Sgt. Angela Stafford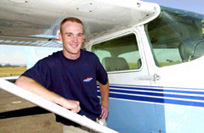 JUNCTION CITY, ORE -- It's almost like winning the lottery or being the top contestant on a high-stakes television quiz show. The difference is that even with those millions you still can't buy what Dale Zimmerman will do later this month when he gets his "dream come true" -- a flight in an Air Force F-15D Eagle.
Mr. Zimmerman, of Junction City, Ore., is the Air Force winner of the Yahoo! Fantasy Careers in Today's Military contest.
The contest, which ran May 20 - July 4, invited eligible U.S. candidates to register on Yahoo!, submit a resume, and write a short essay on one or all of the military fantasy careers through the Career Track web site. Overall, more than 3,300 essays were submitted.
"This contest is about the public meeting military service members, getting to know who they are, and experiencing firsthand their maturity, dedication and professionalism," said Navy Cmdr. Yvette Brown-Wahler, the Defense Department's assistant director for recruiting plans. "This is a way for ordinary people from Main Street USA to connect with extraordinary people doing exciting, thrilling and challenging jobs while serving their country."
The 22-year-old winner travels to Tyndall Air Force Base, Fla., Aug. 23 -25 for his flight. In addition, he will get a chance to meet with aircraft mechanics and watch a military work dog demonstration as part of an orientation on the Air Force. "I was about to pass out," Mr. Zimmerman said when he learned he had won the contest. "It is a dream come true." He said he'd almost forgotten entering his essay after spotting the contest on the Air Force recruiting web site.
Lieutenant Col. Jerry Kerby, 325th Operations Support Squadron weapons and training flight commander at Tyndall, will be Mr. Zimmerman's pilot during the orientation flight.
I'm excited about doing this because I get to show others what a great life we have in the Air Force," Colonel Kerby said. "It's not just flying jets; it's working side-by-side with men and women who have dedicated their lives to serving our great nation. You just don't get this working a nine-to-five job."
"I'm totally excited about the flight," Mr. Zimmerman said. "My face will be plastered up against the seat. Adrenaline will be pumping, and I just get more excited day by day."
Mr. Zimmerman, who works as a customer service representative for United Airlines, will receive a bachelor's degree from Embry-Riddle University early next year and hopes to go to Officer Training School. A private pilot for five years now, he said he hopes to someday become an Air Force pilot. He sees his time at Tyndall as a great first step.
"I'm going to learn more about a fighter pilot's life. This is going to show me what happens behind the scenes. It will keep inspiring me to pursue my dream of becoming an Air Force pilot," he said.
"I am living the dream," Colonel Kerby said, "and I want Dale to experience some of that dream. He is going to get the ride of his life. I have the best job in the world, and now I get to prove it."
"I'm speechless," said Mr. Zimmerman. "This doesn't come around often. I'm glad Colonel Kerby is as excited as I am. This is a chance of a lifetime."