History's Youngest Naval Aviator:
George H. W. Bush
The article below first appeared in May 1990 in a special edition of APPROACH magazine, the Naval Aviation Safety Review, entitled "Reflections --Outstanding Naval Aviators Look Back." It is revealing not only as an historical document but as a look back at training practices and attitudes about safety in World War II Naval aviation.
Future segments will bring you the "reflections" of such aviation greats as Senator John Glenn; Congressman Randall H. Cunningham, one of only two Navy Aces from the Vietnam War ; Cdr. William P. Driscoll, USN (Ret.), Cunningham's Radar Intercept Officer (RIO); VAdm. Donald D. Engen, former test pilot, Smithsonian Air & Space Museum director and much more, who, sadly, died in a glider crash just this year; RAdm. Alan B. Shepard, Jr., USN (Ret.); and several more. Stay tuned!
An Interview with President George H. W. Bush
Many of America´s presidents have served in the military;several have seen combat. However, George Bush is the first aviator to become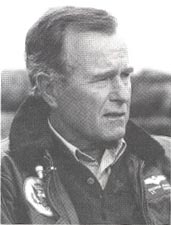 president. His status is unique because, at the time he flew Grumman Avengers in 1944, he was one of the youngest Naval Aviators [history now records he was the youngest ever]. Twenty-year-old Lt jg. Bush flew 58 combat missions in the Pacific as a member of VT51 in USS San Jacinto (CVL30). During a strike against the Japanese held island of ChiChi Jima, he and his crew were shot down by flak and had to bail out. Lt jg. Bush was the only one to survive from his three-man crew. He was eventually rescued by the submarine USS Finback (SS230), but he did not return to VT51 until October 30, eight weeks after being shot down.
After rescuing Lt jg. Bush, and two other pilots and two aircrewmen, Finback continued its war patrol. As an unexpected member of the submarine's crew, Bush experienced the claustrophobic existence of the Silent Service. Finback attacked Japanese shipping, and was also depth-charged by Japanese surface ships. He also helped out by censoring outgoing mail and standing night watches while the sub ran on the surface to recharge its batteries.
Lt jg. Bush received the DFC for attacking the target on ChiChi Jima through heavy flak just before he was shot down. He also accumulated three Air Medals during his combat tour.
President Bush was no stranger to aviation mishaps. His TBF's landing gear collapsed on landing during FCLPs in November 1943. Before being hotdown, he ditched hisTBM onJune19,1944, in the middle of the great air battle that became known as the "Marianas Turkey Shoot." SanJacinto was operating near Guam as part of the invasion force against Japanese bases in the Marianas, and his aircraft was on the cat. A Japanese raid turned the carrier's attention away from launching aircraft. The ship's guns fired at the enemy aircraft while Bush and his crew sat on the cat, their aircraft's engine running.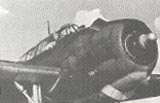 As the attack passed, the VT51 "Turkey" (the 1944 nickname for the TBM) Bush saw that he had no oil pressure, perhaps as a result of damage from fire by the Japanese raiders or from one of the carrier's flak guns. Before he could signal to abort the launch, the catapult fired, sending the heavily loaded bomber into the air. As he lost power, Mr. Bush warned his crewmen to prepare for ditching and made a smooth landing ahead of his carier. The three men left their sinking aircraft and got into their rafts. An accompanying destroyer picked them up.
President Bush took time from his hectic schedule to jot down personal responses to our questions about the part safety played in his wartime flying career. Back to top.
In His Own Words...
Approach: You flew 58 combat missionsin the Pacific during World War 11. OnSeptember 2,1944, you were shot downduring a strike. Could you describe whattraining, both at Pensacola and in yoursquadron, might have helped you tosurvive the bailout and while you were inthe water?
President Bush: Our preflight training taught us certain underwater proceduresand gave us familiarity with the water, itself. Actually, I never trained at Pensacola; I got my wings at Corpus Christi. Bailout procedures from the TBF(1) were taught at Fort Lauderdale before I got to VTS1 in June 1943. There were no simulators in those days, just verbalinstructions.
Approach: During your combat tour, did you think about safety much, as much as we do today?
President Bush: We thought about safety a great deal. There were a lot of safety posters around, especially for brandnew pilots. The posters related to taxiing, care of aircraft, and a lot of elementary areas. We didn't pack our own parachutes, but we did learn about caring for our chutes. We received a lot of instruction about safety during a bailout. I remember being hit and I instinctively turned my aircraft to the right to release the air stream pressure from the door leading into the ventral gunner's compartment.
Approach: As the highestranking government official, you've had several opportunities to see today's Navy aircrews in action. Has the basic se- quence on the carrierflight deck changed in the 40 years since you flew from the San Jacinto?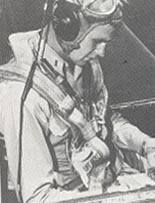 President Bush: I've seen carrier crews in action and the basic sequence has changed dramatically. Things seem much more efficient and more complex than they were in my day.
Approach: Today's naval aircraft rely heavily on so called "systems" to fly and perform their missions, and part of today´s saftety awareness is thorough knowledge of aircraft and weapons systems. How did you train in the Avenger regarding its operation and missioin?
President Bush: Our planes did not rely on "systems." They were "needle-ball" and "airspeed" and slightly more. We had an automatic pilot but it was not particularly reliable, and I did not use mine very much. The weapons systems were simple by today´s standards. We dropped bombs and torpedoes but in a very unscientific manner. We had a .50-caliber machine gun in the dorsal turret, but there was no complex electronics suite or anything of that nature.
Approach: Did you train by fighting with different types of aircraft in what we would call today sissimilar aircraft air combat training?
President Bush: The way I trained in the TBM at Fort Lauderdale was to climb in and put the throttle forward and take off. We had Link trainers for instrument training but there were no special simulators for the TBM. We didn´t train by fighting different types of aircraft. We did a lot of low-level flying but none of the simulated attack flying that I have seen today. The bottom line is: It was a lot different then--a lot diffferent.
(1) At the time, the Avenger's 'TBF" prefix indicated a torpedo bomber built by Grumman. By late 1942, Grumman's entire production capability shifted to the F6F Hellcat and the company's other aircraft. The F4F Wildcat and the TBF Avenger were farmed out to the Eastern Aircraft Division of General Motors. Thus. late versions of the Wildcat and Avenger became the FM and the TBM, respectively. While President Bush may have trained in both TBFs and TBMs, by the time he reached fleet service, the later TBMs had replaced the earlier aircraft.-- Ed.