In Appreciation of Astronaut and Aviator
Gordon Cooper
By Carlton W. Austin
When I heard the news that Gordon "Gordo" Cooper had "gone west," or "scrambled," as test pilots like to say, my first instinct was to go back and start re-reading Tom Wolfe's The Right Stuff, not just because it's one of the best books ever written about aviators but because it was the parts about Gordon Cooper that stood out most in my mind.
But first, I read the mountain of press stories about this American icon, this hero at the dawn of the Space Age and beyond. It was Sean O'Keefe, NASA administrator, who said it best at a memorial service for the fallen astronaut. He called Cooper "a hero for millions of Americans" who "now is one with the stars."
And indeed it's true. But what interested me more was what he said next; it was what I'd remembered from Wolfe's book: "He was a 'natural born stick and rudder man,' " O'Keefe continued. "You could count on him in a tight spot."
The youngest of the "Original Seven" Mercury astronauts, who included Scott Carpenter, John Glenn, Gus Grissom, Wally Schirra, Alan Shepard, and Deke Slayton, Leroy Gordon Cooper Jr. started flying before he was sixteen, and by all accounts he flew with the coolness of a high-wire walker. He embodied the storied fighter-pilot confidence and swagger portrayed so ably on the silver screen by such past masters as John Wayne in Flying Tigers, Robert Wagner in The Hunters and Tom Cruise in Top Gun. It was this hard to quantify "Right Stuff" that inspired me—and I'm sure millions of others—to want to be like them, so supremely self assured, so at ease plying the stormy ways of life, whether at peace or at war.
Cooper in the "white room," waiting for test activities to resume in preparation for his Mercury launch in May of 1963. NASA photo
Indeed, so self-assured was Cooper that after his initial astronaut-applicant testing at Wright-Patterson AFB, he informed his commanding officer that he needed to find someone to replace him because he was going to be selected for astronaut training. This declaration came a full month before any decision was to be made. And when a Life magazine reporter pointed out that he was younger and less experienced than the other Mercury Seven crew, Cooper responded that because he was the youngest he would probably be the first person to land on Mars.
His calmness under normally very stressful conditions was legendary. Psychologists at Wright-Patterson noted this trait early on. But it was what he did on the morning of May 15, 1963, sitting atop an Atlas 130-D rocket loaded with 200,000 pounds of liquid oxygen and RP-1, awaiting liftoff of Faith 7, that cements his place at the zenith of cool. Doctors monitoring his vital signs via biometric telemetry couldn't believe their readings. They looked at one another with puzzled expressions. Could the readings be right? Was there some malfunction? Everything seemed to indicate that the astronaut had fallen asleep! Yes, the man who would become the first human to fall asleep in space a few hours later was so relaxed on the threshold of his first space flight that he'd taken a snooze.
Of course he wasn't always sleeping when he pushed the envelope. Even though he was in the engineering section at Edwards AFB, rather than the more prestigious Fighter Operations where, at the time, Century series fighters like the F-104 and F-106 were being tested and from which compatriot Deke Slayton came into the Mercury program, he found time to have his share of flying adventures.
In one episode, which was as hilarious as it was dangerous, Cooper takes Jim Rathmann, who had only recently learned to fly, up for a flight in a Beechcraft. Cruising along over the Florida Everglades, Gordo casually comments, "Never fly under a sea gull—they'll shit on your airplane." Well, it seems Rathmann chuckled, taking it as a joke. Who wouldn't? Not Gordo, who replied, "I'll show you," and headed for a flock of sea gulls flying just above the water. According to Rathmann, they flew so low the propeller began to cut the marsh grass with a whump, whump, whump, which went on for what seemed an eternity. But let Wolfe tell you: "For more than a mile old Gordo mowed the marsh grass to make sure he stayed under the sea gulls…. By the time they landed, Rathmann was Jell-O. But Cooper just popped open the cockpit door and stood up on the lower frame and pointed triumphantly at the roof and yelled to Rathmann: 'Look here—I told you!' "
And his courage didn't end when the wheels touched down. Throughout his life he bravely recalled instances where he was certain he'd seen UFOs that seemed to him to represent evidence of unearthly visitors. Rightly or wrongly, not exactly a career-enhancing move, but Gordo always called them as he saw them.
Like he did in the early days of the Mercury program when, to the utter consternation of the publicity bigwigs at NASA, he complained that he and his fellow astronauts, all being former fighter pilots, didn't have anything to fly and therefore were losing proficiency—not to mention flight pay! Never mind that he really just missed flying the high performance mounts he'd become accustomed to. Though at first the other astronauts thought Cooper's request for something "hot" to fly was unseemly, they eventually came around to his way of thinking, as did the powers-that-be. The Air Force saw to it that two F-102s were made available. End of story? No. Because two rag-tag, first-generation fighters just didn't cut it. Soon Cooper, this time reinforced by his fellows at the outset, campaigned for something better, something Second Generation. F-102s became F-106s.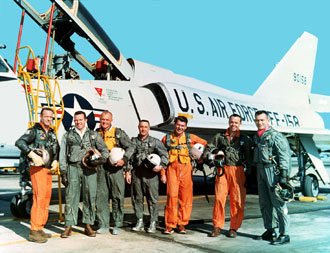 The "Original Seven" Mercury astronauts. From left: Scott Carpenter, Cooper, John Glenn, Gus Grissom, Wally Schirra, Alan Shepard, and Deke Slayton. Photo credit: NASA.
In the end, I guess, it was his unconditional love of flying that defined Gordon Cooper more than anything else. That's why we in the aviation community revere him so. He continued to design and test new aircraft in Southern California for nearly the rest of his life. And, completely unsurprisingly, he never gave up his passion for flight, for exploring and challenging the edges of the envelope. Even at the age of 71, Cooper told a reporter, "I get cranky if I don't fly at least three times a month."
Yes, the world has lost a hero. But we in the aviation fraternity, with or without the Right Stuff, who in our hearts have flown his wing all these years, have lost our Lead.
With acknowledgement to Commander Patrick Doyle,USNR, who kindly pointed out that the rocket upon which Gordon Cooper sat for the Faith7 launch was in fact an Atlas and not a Redstone, as I had mistakenly written in the original of the above piece.--CWA