Did NASA's Opportunity rover find blueberries on Mars?
Check it out below...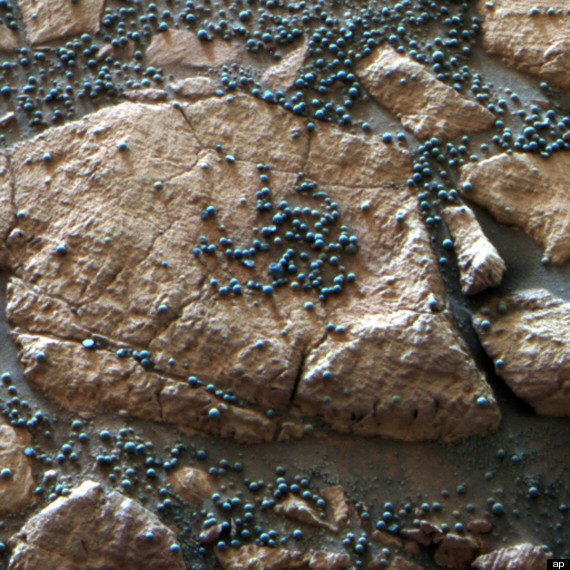 Image credit: NASA/JPL
From Nasa's Website:
Puzzling Little Martian Spheres That Don't Taste Like 'Blueberries'
Small spherical objects fill the field in this mosaic combining four images from the Microscopic Imager on NASA's Mars Exploration Rover Opportunity. The view covers an area about 2.4 inches (6 centimeters) across, at an outcrop called "Kirkwood" in the Cape York segment of the western rim of Endeavour Crater. The individual spherules are up to about one-eighth inch (3 millimeters) in diameter.
The Microscopic Imager took the component images during the 3,064th Martian day, or sol, of Opportunity's work on Mars (Sept. 6, 2012). For a color view of the Kirkwood outcrop as Opportunity was approaching it two weeks earlier, see PIA16128 .
Opportunity discovered spherules at its landing site more than eight-and-a-half years earlier. Those spherules were nicknamed "blueberries." They provided important evidence about long-ago wet environmental conditions on Mars because researchers using Opportunity's science instruments identified them as concretions rich in the mineral hematite deposited by water saturating the bedrock. ...
The spherules at Kirkwood do not have the iron-rich composition of the blueberries. They also differ in concentration, distribution and structure. Some of the spherules in this image have been partially eroded away, revealing concentric internal structure. Opportunity's science team plans to use the rover for further investigation of these spherules to determine what evidence they can provide about ancient Martian environmental conditions. --2012 NASA
Now for an update:
While the Martian blueberries were first discovered by NASA's Opportunity rover in 2004, and the report above published in 2012, there is now more to the story...
Unfortunately, new evidence seems to quash the notion that the blueberry-like features are evidence of flowing water containing past life on Mars, according to researchers from the Hawaii Institute of Geophysics and Planetology, who now believe meteorites that broke up in the Red Planet's atmosphere were the cause. A full accounting was published in the journal Planetary Space and Science's March issue.
(A convincing account of past life on Mars can be found in the pages of Second Eden.)
Back to SPACE and ASTRONAUTICS