May 2015 Mile-High Maiden™
Who is this startlingly attractive woman?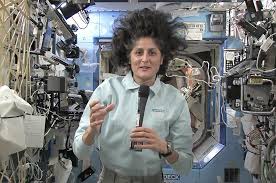 She's the chief scientist in charge of a new NASA study to determine if crewcuts* should be mandatory in space…
.
.
.
.
Just kidding!
Actually, she's one of only two women to have held the lofty position of International Space Station commander.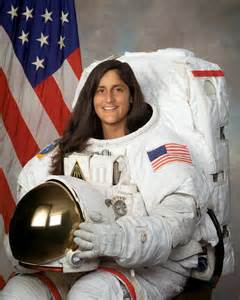 One of the most experienced ISS astronauts, she holds some highly esteemed records: longest single space flight by a woman (195 days), total spacewalks by a woman (7), and most spacewalk time for a woman (50 hours, 40 minutes).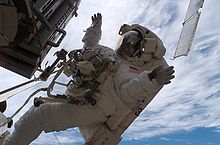 Oh, and did we mention she was a Naval Aviator, flying helicopters? And a test pilot involved in the development of the V-22 Osprey?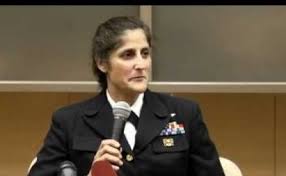 That she was the first person to run the Boston Marathon from the space station on April 16, 2007?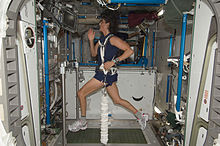 Or that in September 2012, she became the first person to do a triathlon in space? Both of which were prepared for using the nifty exercise equipment on the ISS.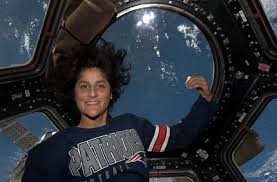 Suni in her favorite place on the ISS: the cupola.
There is much, much more of interest. Check out her Wikipedia page here. Better yet, watch the amazing video of her ISS tour, made just before she returned to Earth after commanding Expedition 33.
About doing #2s in the ISS bathrooms: "It's pretty small, so you have to have good aim."
About sleeping: "It's like sleeping in a phone booth." But the good news? You can "sleep in any orientation."
About her favorite place and pastime on the ISS: "I come to the cupola." Where she "loves to look at Earth."
It's the best 25 minutes in space.
We salute our new Mile-High Maiden!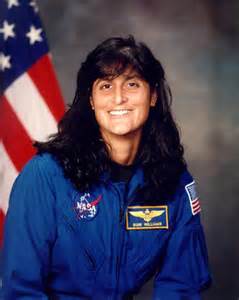 Sunita Lyn "Suni" Williams
*What causes the frightening Hairmageddon that affects long-haired astronauts? The cause is not something but the absence of something: gravity. When not affected by its pervasive influence, hair emerges from the scalp in a direction that is mostly perpendicular. So it goes and so it stays.