MiG-29 ADVENTURE
By Darrin Silver
She's shiny, speaks with an accent and moves blindingly fast. And if you know how to ask, she'll do your every bidding. Come along as artist, writer and pilot Darrin Silver tells how talent, hard work and just a pinch of luck led to a dream encounter with this Russian beauty …
PART I
"I can't believe GNC's Turbo ATP is legal! During workouts my strength and endurance increased phenomenally, producing explosive power for bench presses and the added energy to crank up the treadmill speed a few more levels…all this without the risk of illegal performance-enhancing substances. Working out is more effective, efficient, and energized with Turbo ATP. Combine that with an affordable price and GNC gives you more bang for your buck than with any other supplement."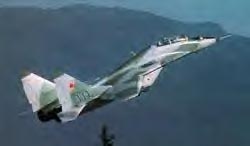 Those words would lead me on one of the most exciting adventures of my life. Upon first reading of an essay contest where the grand prize was a ride in a MiG-29 jet fighter, I knew, absolutely knew, that I had it won. I was certain my writing abilities were competitive, and I knew without a doubt that no other contestant had the same burning desire to fly one of those jets that I had.
All I had to do was purchase GNC's latest product, Turbo ATP, use it for a month and write about how great it was and how much I benefited from it. Of course, even if it made me sick and I spent the month just trying to gag it down, I would talk it up big time! Anything to fly in that MiG! All I needed was a contest-winning essay of 75 words or less. I sat down in front of my computer and started to write.
After several days of tweaking and proofing and giving it to family and friends to read, I sent it off along with a few prayers. I felt confident and tried to put it out of my mind. No more "I should have said this, or I should have included that." It was done.
Two months later, the contest had completely slipped my mind when an express mail package arrived. The Initiative Media/Promotion House letterhead did not ring a bell. Hmmm. With a mixture of casual disregard and curiosity, I tore it open. Quickly, my eyes darted through the first paragraph before an "oh shit!" escaped my lips. Not a the-IRS-is-auditing-you "oh shit," but an oh-my-gawd-this-can't-be-true "oh shit." My Mom happened to be in the room and thought a cartoon syndicate finally decided to pick up my comic strip. No such luck, but I did win a trip to Russia!
There was a fair amount of paperwork to be signed… [just in case] a wing falls off the plane and I have to bail out and spend a week living in a snow cave in the Russian countryside.
It took a day or two for the initial elation of knowing I was going to Russia to fly a fighter jet to wear off. Then I had to get to work. There was a fair amount of paperwork to be signed, notarized, and sent back to the company. Most of it was relinquishing all rights to my essay and swearing on my grandmother's grave (even though she was cremated and scattered) that neither I nor anyone I ever exchanged a fleeting glance with will sue anyone if a wing falls off the plane and I have to bail out and spend a week living in a snow cave in the Russian countryside until I'm rescued.
Over the next few months I was in contact with various people to get my visa and some other paperwork items. I was also in contact with the other winners, Bob Brubaker of Orlando, Florida, and Michael Giafagleone (pronounced Jeff-uh-lo-nee) of Chicago, Illinois. When the time came, we would meet up at the Radisson Hotel in New York City and board our Delta Airlines flight to Moscow.
Soon after learning that I'd won this prize, I decided to try to meet some people in Moscow via the Internet so I would have some friends to show me around when I arrived. After a few dead-end leads, I met Julia, a 23-year-old woman from Ramenskoe (a suburb of Moscow) who recently graduated from Russia's Finance Academy. We emailed for quite a while before my trip and made plans to meet up in Moscow.
The departure date arrived without much fanfare while I was in the midst of beginning my new job with Sierra West Airlines. The trip provided a welcomed break from this tumultuous time.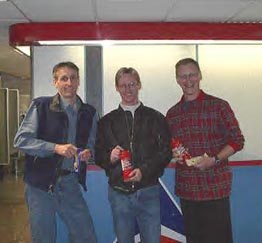 On March 29, (two days before my 25th birthday) I set out for New York's John F. Kennedy Airport aboard United Flight 863. After checking in at the Radisson Hotel, I found Michael Giafagleone, a competitive mountain biker, and we decided to go get some Chinese food for dinner. There was a takeout place a few blocks from the hotel. As we made our way down 140th Street, we noticed the bars on the windows, the security doors, the discarded refrigerators and the other assorted trash in the street and realized we were not in the friendliest part of town. The Chinese takeout place was just across the street from the alternator repair shop and the adult video store. While waiting at the counter for my order of sweet and sour chicken, I wondered whether I would even make it back to the hotel, let alone to Russia. Michael and I tried our best not to stand out and quickly made our way back to the safety of the Radisson. If we could survive 140th Street, surely a week in Moscow would be no problem.
At this point we met Bob Brubaker for the first time. Bob competes in triathlons and has come to be known as "Spam Man" because of his sponsorship by the canned meat product distributor. We discussed our game plan for the next day and retired to our rooms for what would be our last night on U.S. soil for a week.
After meeting in the lobby for a breakfast of orange juice and $3 bagels, we caught the airport shuttle and left beautiful Jamaica, New York, behind. I came to find out that we were nowhere near New York City as I had hoped.
We were greeted at the terminal by a representative of Initiative Media and given GNC gift bags (mostly protein bars and sports drinks). She made sure we got checked in, snapped a couple pictures and bid us farewell. Now we had a couple hours to kill before boarding Delta Flight 31. Bob went to look around and in a few minutes returned with the news that he had found a Sam Adams bar on the next level. No one had to tell us twice. We hefted our bags up the stairs and parked ourselves at a table overlooking our gate and the runway. Michael bought the first round and we toasted Moscow.
She was in her late twenties, with jet-black hair and piercing eyes. She wore a leather coat, short skirt and calf-high fur-lined boots. Her name was Marina. She was to be our handler.
Upon boarding the Delta 767 we had to split up, as our seats were not together. The people arranging the trip were thoughtful enough to give us all aisle seats for the nine-hour flight to Moscow. My plan was to stay on New York time until after the in-flight dinner service. Then I would set my watch to Moscow time and get as much sleep as I could. In theory, I would awaken to daylight and be somewhat resynchronized on Moscow time for our 12 noon local time arrival. Of course I was seated amidst a troop of 80 southern church folks who were going on a mission to help save the poor godless Russians. And they were a talkative bunch! I took the blanket and pillow provided by the airline and wadded them up on the tray table with my jacket. I told the church lady next to me to climb over me if she needed to get out and promptly buried my head in my tray table nest. The missionaries finally shut up after a while, and I managed to get a few hours sleep.
I awoke to the sight of our flight path projected onto the in-flight movie screen. We were just northeast of Scotland and scheduled to arrive in about two hours.
As we made our approach into Sheremetyevo Airport in Moscow, the weather was clear and sunny, but I noticed that there was still a lot of snow on the ground. I'm not exactly sure what type of approach we made. All I remember is that we were down around 2000 feet and making a lot of turns while we were still about twenty miles from the airport (not something you would do in the U.S.). In any event I got a good look at the surrounding areas. Very flat and rather bleak.
As we taxied in to the gate, I was gawking at the plethora of Ilyushin and Antonov jet liners that were scattered about the ramp, all bearing the Aeroflot regalia.
Bob, Michael, and I met up at the end of the Jetway and followed the masses to the dimly lit passport control booths. We waited single file behind the red line for our turn to smile politely and present our passport and visa. On the other side of passport control, we noticed a striking young woman who looked like she stepped straight out of a James Bond movie. She was in her late twenties, with jet-black hair and piercing eyes. She wore a leather coat, short skirt and calf-high fur-lined boots. Needless to say, she caught the eye of many people waiting in line. What was most noticeable about her was the sign she was holding with the names Brubaker, Giafagleone (the spelling was butchered), and Silver. She was to be our handler. Her name was Marina. Lucky us. PART II