PC Aviator Announces MegaCITY Denver For Microsoft Flight Simulator 2004
Now Fly Denver – The "Mile High City" At High Resolution With FS2004
SOUTH CAROLINA, 26 JANUARY 2005. Flight Sim Add-On Software publisher, PC Aviator, today announced the second title in its MegaCITY USA 2005 series – MegaCITY Denver.
Created from 1 foot per pixel aerial photos, MegaCITY recreates 3,600 square miles of the city of Denver and surrounding areas for realistic VFR flying in Microsoft Flight Simulator 2004. Flight Sim pilots will be able to soar the skies above and explore the entire Denver metropolis including parts of the Rocky Mountains to the west in true-to-life detail.
At 5,200 feet Denver is the "Mile High City". When flying VFR in a light single, you're already challenged as your take off and landing performance is reduced due to the altitude. Add to that the real cityscape beneath you and the Rocky Mountains to the west and you've got yourself the challenge of Denver - a real Denver – to enjoy and explore in Microsoft Flight Simulator 2004.
MegaCITY Denver will commence shipping in the first week of March, 2005 on CD-ROM and will be priced at $19.95.
More information, including the recently released screenshots, and an opportunity to preorder direct, is available for viewing at the MegaScenery website at www.megascenery.com.
MegaCITY Denver is created and developed by Australian company Aerosoft Australia Pty Ltd and published by PC Aviator Inc.
About PC Aviator PC Aviator Inc is based in Myrtle Beach, South Carolina and is the US subsidiary of the Australian based The PC Aviator Pty Ltd. The company is in its 14th year of providing flight simulator products and services to flight simulator enthusiasts worldwide. The company publishes Computer Pilot Magazine the world's only monthly flight simulator magazine (www.computerpilot.com), operates PC Aviator Direct, it's mail order division and also publishes flight simulator software titles such as MegaScenery. The company's website is at www.pcaviator.com.
* * *
NASA's B-52B "008" Retires--December 2004
With a penchant for chasing tomorrow, NASA's B-52B "008" always carried the future of flight under its wing.
The B-52B's first and last missions launched hypersonic research vehicles, the first being launch of the number one X-15 in 1960. Beginning with the X-15 program, which matured reaction control systems and thermal protection systems for spacecraft, and ending with the X-43A project, NASA 008 served hypersonics research well.
Always reliable, NASA 008's long career ended as historically as it began, launching the last hypersonic X-43A scramjet powered research vehicle on Nov. 16, 2004, to nearly Mach 10, a record speed for airbreathing aircraft. Complete story.
* * *
Hooray for the Sweet Tooth--December 2004
CAPE CANAVERAL, Fla. – With no McDonalds and no Burger King to turn to, two international space station astronauts ended up a few pounds thinner when the onboard food supply ran low.
NASA astronaut Leroy Chiao and Russian cosmonaut Salizhan Sharipov made up for a shortage of staples like meat and vegetables by chowing down on deserts and candies, oddly in plentiful supply.
"Both of us ended up losing a few pounds, but I guess that's nothing we can really complain about," Chiao said during a news conference from space. "We looked at it as kind of a challenge, kind of a camping adventure—roughing it, I guess."
Russian Gennady Padalka and American Mike Fincke, the previous crewmen, tired of their usual fare and so were given permission to break into the food stocks ordinarily reserved for the next scheduled crewmembers.
"The last crew had gotten into our food and had failed to actively report to the ground what they had taken out of our allotment," Chiao said.
A Russian relief ship, Progress M-51, docked at the orbiting station at early on December 21 Moscow time, after lifting off Friday from the remote Baikonur cosmodrome in the steppes of Kazakhstan. The resupply mission included 440 pounds of food.
Had the resupply mission failed, Russian cosmonaut Salizhan Sharipov and U.S. astronaut Leroy Chiao, who are in their third month on the station, would have had only enough food for 7-14 days. Without an American space shuttle to help, they would have had to abandon the space station.
"That's something that neither of us, nobody really, wanted to have happen," Chiao said. "All throughout this whole thing, we kept real good spirits. Salizhan and I have been keeping each other up, joking around, and it's been very pleasant even with some of the shortages."
NASA hopes to resume shuttle flights late this spring or early summer.
* * *
F-22 Raptor Grounded after Crash —December 2004
Nellis AFB, Las Vegas--The Air Force suspended flight testing of the Lockheed Martin F-22 Raptor stealth fighter after one crashed and burned shortly after takeoff at Nellis AFB in Nevada.
The pilot ejected with only minor injuries.
It was the first crash of a non-prototype Raptor, which is a premier weapons program both for the Air Force and Lockheed Martin.
The F-22 is designed to replace the F-15, America's current, but aging, air superiority fighter.
Though the Air Force wanted 381 examples, it can only afford 270 at the current $133 million price tag, and ongoing efforts to cut the Pentagon budget will likely reduce that number even further, increasing the per-aircraft price to over $240 million.
So far, 36 have been delivered: eight have gone to Nellis, with the remainder going to Edwards AFB in California and Tyndall AFB in Florida.
The accident aircraft was assigned to the 422nd Test and Evaluation Squadron here and had about 150 air hours when it crashed at 3:45 p.m. Pacific time on December 20.
In seven-thousand hours of flying, the Raptor has had but one other serious mishap, which did not involve a crash.
Major General Stephen Goldfein, the Air Warfare Center commander at Nellis, says the program will not be halted. However, he estimated that it would take about 90 days before the two ongoing accident investigations are concluded, in all likelihood putting the Raptor program back on track.
* * *
MegaCITY USA 2005 offers New Scenery Product Line--December 30, 2004
Now Flight Sim Pilots Can Soar The Skies Above Their Favorite US Cities
SOUTH CAROLINA, 30 December 2004. PC Aviator Inc, publisher of MegaScenery scenery for Microsoft Flight Simulator, today announced the release of a new scenery product line titled MegaCITY USA 2005.
Where MegaScenery brings users large areas of photorealistic scenery using satellite imagery at 5 meters per pixel, MegaCITY USA 2005 will have Flight Simulator pilots soaring the skies above major US cities that have been created from higher resolution aerial photographs at 1 and 2 foot per pixel resolution. Consumers need to understand that Flight Simulator 2004 itself only displays at a maximum resolution of 5 meters per pixel however since the source images were taken at the higher resolution a lot of this detail is retained even after resampling to 5 meters per pixel.
The end result is much clearer and crisper urban landscapes for PC flying where a lot of intricate detail is visible right down to the level of individual trees on golf courses. Cities and their surrounding areas look just like they do in real life as MegaCity scenery replaces the generic tiled scenery native to Microsoft Flight Simulator 2004 with high resolution images of the actual cities.
The company plans to release a number of cities throughout 2005 with the first two titles to be released before the end of January 2005. The first title will be MegaCity San Francisco and the second has not yet been announced.
MegaCITY USA 2005 is created by Aerosoft Australia Pty Ltd, developers of MegaScenery. As a result, MegaCITY will have all of the advanced and unique features delivered in their MegaScenery titles including Night Scenery, high resolution underlying mesh terrain, Winter Snow Scenery (where appropriate), real water bodies and relocation and realignment of default Flight Simulator objects.
MegaCITY titles will be available on CD-ROM and will be at a very reasonable price of $24.95.
The first title - MegaCITY San Francisco will ship on 24 January 2005.
More information, including the recently released screenshots, and an opportunity to preorder direct, is available for viewing at www.megascenery.com.
MegaCITY USA and MegaScenery USA is created and developed by Australian company Aerosoft Australia Pty Ltd and published by PC Aviator Inc.
About PC Aviator
PC Aviator Inc is based in Myrtle Beach, South Carolina and is the US subsidiary of the Australian based The PC Aviator Pty Ltd. The company is in its 14th year of providing flight simulator products and services to flight simulator enthusiasts worldwide. The company publishes Computer Pilot Magazine the world's only monthly flight simulator magazine (www.computerpilot.com), operates PC Aviator Direct, it's mail order division and also publishes flight simulator software titles such as MegaScenery. The company's website is at www.pcaviator.com.
About Aerosoft Australia
Aerosoft Australia is Australian based and develops and manufactures a number of flight simulator related products – both software and hardware. The company is noted for its Scenery USA photorealistic scenery for the Fly! flight simulator created using its powerful proprietary scenery development techniques and which it has also used to develop MegaScenery. Also of great interest to flight simulator pilots is its 747 Mode Control Panel (747MCP) hardware for flight simulations. The company's website is at www.aerosoft.com.au.
* * *
Airline Pilot Retirement Age Revisited--December 2004
The Air Line Pilots Association (ALPA), the nation's largest pilot union, has decided to rethink its position on mandatory retirement for airline (part 121) pilots. In the past, the union has steadfastly held that age 60 was the magic number. But the age limit has always been controversial, with many pilots insisting that there is no safety-related reason pilots could not continue to fly as along as they could pass their 6-month physical exams and maintain their Class-I medical status.
"We have to be convinced (a change) would not affect safety," John Mazor, a spokesman for the ALPA, told the St. Petersburg Times. "But there's enough there to warrant a re-examination. Everybody understands that age 60 is an arbitrary number."
With everyone living longer—and healthier—it is likely that the union's position will change when it polls its 64,000 members in the spring.
* * *
NASA's X-43A Scramjet Breaks Speed Record--December 2004
NASA's X-43A research vehicle screamed into the record books again Tuesday, demonstrating an air-breathing engine can fly at nearly 10 times the speed of sound. Preliminary data from the scramjet-powered research vehicle show its revolutionary engine worked successfully at nearly Mach 9.8, or 7,000 mph, as it flew at about 110,000 feet.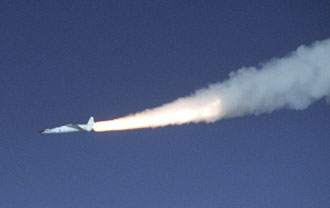 The flight will "help us advance the Vision for Space Exploration, while helping to advance commercial aviation technology," NASA Administrator Sean O'Keefe said. Full story...
* * *
Actor Ed Kemmer Dies--December 2004
LOS ANGELES– Actor Ed Kemmer, who played the intrepid Cmdr. Buzz Corry in the popular 1950s children's television show ``Space Patrol'' has died. He was 84.
Kemmer flew P-51 Mustangs during World War II. Shot down over France in 1944, he spent 11 months in a German prisoner of war camp, where he along with other POWs put on stage plays. It was here that the acting bug bit, and after the war he studied acting.
Soon after the war, the opportunity to play Cmdr. Buzz Corry presented itself. "Space Patrol," became a hit children's adventure show, which followed the adventures of Cmdr. Corry as he fought off space invaders of the 30th century. He flew around in his Terra V spacecraft from 1950 to 1955 both on TV and on radio. His partner, Cadet Happy, provided a comic element.
Kemmer had great respect for his young fans, telling the Columbus Dispatch in 1994 that "I played it as straight as I could. You don't play down to children. A lot of shows make that mistake. Kids see through that right away." Later he recounted how "one engineer at NASA told me that he first got interested in space because of our show."
Later as a character actor, he played roles on many of the popular shows of the era, including "Perry Mason," "Gunsmoke" and "Maverick."
In 1964, Kemmer, looking for a regular paycheck, turned to soap operas and, after moving to New York, he spent the next 19 years working in such famed series as "The Edge of Night," "As the World Turns," "All My Children" and "Guiding Light."
Kemmer is survived by his wife of 35 years, former actress Fran Sharon, and three children.
* * *
NTSB SAYS PILOT'S EXCESSIVE RUDDER PEDAL INPUTS LED TO CRASH OF AMERICAN FLIGHT 587; AIRBUS RUDDER SYSTEM DESIGN & ELEMENTS OF AIRLINE'S PILOT TRAINING PROGRAM CONTRIBUTED--October 26, 2004
Washington, D.C. - American Airlines flight 587 crashed into a Queens neighborhood because the plane's vertical stabilizer separated in flight as a result of aerodynamic loads that were created by the first officer's unnecessary and excessive rudder pedal inputs after the aircraft encountered wake turbulence, according to a final report adopted by the National Transportation Safety Board today. The Board said that contributing to the crash were characteristics of the airplane's rudder system design and elements of the airline's pilot training program....
* * *
Space Shuttle Enterprise Exhibit to Open November 1--October 26, 2004
The Smithsonian's second largest aviation artifact after the Concorde, the space shuttle Enterprise, will go on display at the Steven F. Udvar-Hazy Center near Dulles International Airport on November 1, 2004.
Residing in the 53,000-square-foot James S. McDonnell hangar, the Enterprise, which had been in storage for two decades, will join 600 aviation and space exhibits at the new Smithsonian annex, designed to handle examples too large for its fabulously popular parent, the National Air & Space museum in downtown Washington, D.C.
Since its grand opening last December, the Udvar-Hazy annex has attracted over 1.6 million visitors.
* * *
Cessna To Offer Airbags On 2005 Singles --October 25, 2004
Cessna Aircraft Company announced a novel piece of standard equipment for its 2005 single-engine models: an AmSafe airbag.
AmSafe, the world's leading designer and manufacturer of engineered textiles for the aerospace, defense and transportation industries, produces the Aviation Inflatable Restraint (AAIR), which deploys from a three-point restraint system utilizing standard buckles and existing attach points in the aircraft. The bag inflates away from the pilot, in contrast to the way automobile airbags operate.
A retrofit kit is available for models going back to 1997 for about $6,600. Cessnas equipped with the new AAIR restraint system will be delivered sometime in January 2005.
* * *
Faulty Genesis Blueprints--October 16, 2004
Five years after the the Mars Climate Observer burned up in the Martian atmosphere because Lockheed Martin engineers programmed the craft in English instead of metric units, another fiasco has engulfed the huge NASA contractor.
It appears that the crash of the Genesis spacecraft in the Utah desert last month was due to the backwards installation of four tiny gravity switches responsible for deploying the descent parachutes.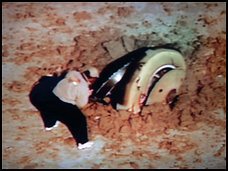 Launched three years ago to collect particles of solar wind, the $264 million Genesis probe was due to be plucked out of the sky by a helicopter as it floated down, suspended from parachutes.
Michael G. Ryschkewitsch, chairman of NASA's Mishap Investigation Board, confirmed that the fault lay with the Bethesda, Maryland-based Lockheed Martin Corp's original blueprints.
"The drawings are not correct," Ryschkewitsch said, causing engineers to install the swithces improperly when the craft was assembled nearly four years ago.
There is some good news: scientsits say some of the samples collected on 200 ceramic tiles are not contaminated and my still yield clues to the makeup of the gigantic ejections of material from our sun known as solar flares.
* * *
Mercury 7 Astronaut Gordon Cooper Dies--October 4, 2004
Gordon Cooper, one of the original Mercury Seven astronauts and pioneer of human space exploration, has died.
Cooper flew the last of the Mercury missions on May 15 and 16, 1963, when he piloted the Faith 7 spacecraft on a 22-orbit mission.
Two years later, launching on August 21, 1965, he and co-pilot Charles Conrad would set a new space endurance record for the eight-day Gemini 5 mission, which orbited the Earth some 120 times, traveling a distance of 3,312,993 miles in 190 hours and 56 minutes. Cooper also had the distinction of being the first man to make a second orbital flight.
He passed away peacefully at his home in Ventura, California, NASA reported. He was 77.
Among his numerous awards were the Air Force Legion of Merit, the Distinguished Flying Cross with cluster, NASA's Exceptional Service Medal, the NASA Distinguished Service Medal, the Collier Trophy and the Harmon Trophy.
At a NASA ceremony memorializing Cooper, fellow astronauts recounted stories of their fallen comrade. John Glenn, in a particularly poignant momenet, acknowledged that "Gordo has scrambled," invoking the language of test pilots. "I'm sure we'll all rendezvous out there somewhere."
* * *
Star Gazer Joyce Jillson Dies--Oct 1, 2004
Nationally syndicated astrology columnist Joyce Jillson died of kidney failure October 1 at Cedars Sinai Medical Center, according to her former husband, Joseph Gallagher. She was 58.
Astrologer to stars of the Hollywood type, her daily astrology column appeared in the Los Angeles Times and the New York Daily News, as well as nearly 200 other newspapers, and as the official astrologer for 20th Century Fox Studios, she picked the most auspicious opening days for Fox movies. In 1977, in one of her more famous recommendations, she picked the opening day for Star Wars, which went on to be the second-highest grossing movie of all time.
In 1988, Reagan White House former chief of staff Donald T. Regan wrote in his book that Nancy Reagan consulted astrologers. The astrologer he was referring to was none other than Joyce Jillson.
SJ30 Twin Jet NEWS:
Meet Ed Swearingen and SJ30-2 twinjet
UPDATE at the NBAA - Las Vegas
( Tuesday Morning 10:30 am )
Sino Swearingen Aircraft Corp BOOTH # 2722
100 FREE POSTERS SIGNED BY Ed Swearingen
September 29, 2004; SSAC announced today that it will have a news update on the SJ30-2 aircraft and will give away 100 FREE poster photos of the twinjet in flight, signed by the legendary Ed Swearingen. The posters will be given to the first attendees in line after the update at the NBAA Las Vegas Convention Center, Oct 12, 2004 at 10:30 am opening day Tuesday. (See information below)

SSAC will display an entire SJ30-2 twinjet aircraft indoors at the NBAA Las Vegas convention center, a full size cabin with interior, cockpit and panel instruments as well as a giant 12 ft screen showing the SJ30-2 in flight. One of the Flight Test Aircraft will be flown in for static display at Henderson Airport.
SJ30-2 the world's fastest (560 mph, 485 kts) and the world's longest range (2,875 sm, 2,500 nm) light business jet.
For additional information Contact:
Gene Comfort
Senior Vice President, Pilot
Sino Swearingen Aircraft Corporation
Tel: 1-(949) 851-0900 Fax: 1 (949) 851-0982
E-Mail: GComfort@SJ30jet.com
Web: www.SJ30jet.com Numerous Tiff Photos available at our web site
SJ30-2 TWINJET PASSES CRITICAL MACH .90 HIGH SPEED DIVE TESTING
August 10, 2004, San Antonio, TX, Sino Swearingen Aircraft Corporation (SSAC) announced today that the company has achieved the high speed dive test results for the Mmo Mach .83 by reaching required testing speeds of Mach .90 in a series of high speed dive tests. See full story in Aeronautics
* * *
Chugiak, Alaska – September 2004:
Seven years after the idea was born, and after three and half years of testing, modifying, re-testing, re-modifying, and more testing, AOSS, LLC, has announced that its general-aviation targeted Alfa Omega Suspension System (AOSS) completed the final drop-test under FAA ACO Engineering supervision and is finally available for sale.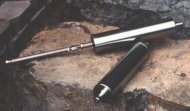 The AOSS uses a solid, deformable polymer as a suspension and shock-absorbing medium. Under normal operating conditions, you won't notice much difference; however, this new design shock absorber and suspension system is one that puts an end to the "slingshot" effect in the rebound from hard landings caused by the old design rubber shock rings /bungee cords. AOSS's heavy-duty design adds strength in all aspects of installation, operation, and adverse loading conditions.
Among the many exciting new features of the AOSS design is the ability of the shock strut to be ground adjustable by the pilot in situations where the aircraft must be heavily loaded. This adjustability also allows for compensation for landing gear fittings that may not be installed as accurately as one would desire.
The AOSS currently approved is designed and engineered to be installed on the Piper PA-18 S/N 18-2187 through 18-3013 (restricted category), S/N 18-3014 and subsequent (normal or standard category), and Piper PA-12 and PA-14 (when modified to PA-18 landing gear in accordance with FAA approved data). More models of aircraft will be added at a later date. The system is approved for installation on aircraft that incorporate the new 2,000 pound gross weight increase STC with standard length and 3" extended landing gear. Approval on the 6" extended landing gear is not planned. It also bears mentioning that the AOSS design can be scaled up or down to fit aircraft with much heavier or lighter gross weight.
Extensive testing of the AOSS has yielded a product that exceeds our initial expectations. Dampening and suspension characteristics are excellent. The cold-drop testing (-20 degree Fahrenheit) yielded a final product that has virtually no rebound, all without sacrificing the suspension's active and reactive function.
The final test was the "reserve energy" test. This test requires the drop height to be up to 1 ½ times the "limit load" dropping height. In this case, the height was just short of 18". The drop-test weight was calculated for a gross weight of 2,070 lbs (1954 PA-18A, AG Sprayer).
The results were nothing short of stunning. Even though g-force accelerations are not required to be taken into account during the "reserve energy" drop, the AOSS recorded a maximum acceleration of only 4.7-g. This is an incredibly low number for this type of drop, where forces of up to 5.2-g to 5.4-g are to be expected.
The first production run is expected to be available by mid to late August and is limited to 150 pair. If you are interested, place your order immediately. A 25% deposit is required at the time of your order.
At $2,200.00 per pair, the AOSS is no doubt a serious investment in your aircraft, but keep in mind there is no annual or biennial expense for changing of bungee cords/shock rings. You buy AOSS only once. Maintenance is reduced to a periodic change of an $8.00 seal.
The AOSS is designed, engineered and manufactured in the U.S.A. Patent issued August 26, 2003. STC issued May 25, 2004.
For Further Information Contact:
AOSS, LLC
PO Box 671487
Chugiak, Alaska 99567-1487
PHONE: 1 (907) 688-3715
FAX: 1 (907) 688-5031
For Orders Only – Toll Free (U.S. ONLY): 1-877-688-3715
On the Web at www.aoss.net
E-mail: burl@alaska.com
* * *
ENVIRONMENTAL TECTONICS CORPORATION ANNOUNCES the ACCEPTANCE AND COMMISSIONING by the METROPOLITAN AIRPORTS COMMISSION of ETC'S DRIVER TRAINING SIMULATOR
Southampton, Pa., August 9, 2004-- Environmental Tectonics Corporation(Amex:ETC) has achieved final acceptance of its Drivers Training Simulatorby the Metropolitan Airports Commission (MAC).
Located in the Airside Operations Training Facility at Minneapolis-St. Paul International Airport (MSP), the Drivers Training Simulator includes a high-fidelity virtual database of the entire MSP complex, with a level of detail that is unparalleled -- down to exact replications of every runway light, sign, and marking, all in the correct size and location. In addition to the virtual environment, ETC provides typical airport activity using moving models, with aircraft at gates, taxi-ing, taking off and landing, as well as all types of service vehicles and personnel found at an active airport.
ETC uses an actual Oshkosh Truck Corporation T-3000 Aircraft Rescue and Fire Fighting (ARFF) Vehicle Cab as the driver station for its simulators, which incorporates validated, accurate vehicle dynamics for an instructor-selectable range of vehicles. This allows training for drivers of fire trucks, ambulances, police vehicles, snow removal equipment, operations vehicles, baggage tugs, service trucks, etc., in a real-time, interactive, environment.
The MAC will use their Drivers Training Simulator to provide airport personnel with training in runway incursion avoidance, airport fire and emergency response, airport orientation and familiarization, Airside Operations Area (AOA) driving procedures, aircraft servicing, and snow removal procedures.
With the MAC simulator now in operation, the Driving Simulator at Chicago O'Hare nearing completion, and the Metropolitan Nashville Airport Authority Driving Simulator scheduled for completion in January, 2005, ETC is solidifying its' place as the leading supplier of Airport Driving Simulators.
ETC is also the creator of the Advanced Disaster Management Simulator (ADMSTM). The ADMSTM is the only virtual reality-based simulator available today that allows the realistic simulation of incidents such as aircraft accidents, terrorist activities, structural fires, major road traffic accidents, wildfires, or natural disasters, for training and planning purposes.
ETC designs, develops, installs, and maintains aircrew training systems, public entertainment systems, process simulation systems (sterilization and environmental), clinical hyperbaric systems, environmental testing and simulation systems, and related products for domestic and international customers.
This press release may include certain forward-looking statements within the meaning of Section 27A of the Securities Act of 1933 as amended, and Section 21E of the Securities Exchange Act of 1934. We have based these forward-looking statements on our current expectations and projections about future events. These forward-looking statements are subject to known and unknown risks, uncertainties, and assumptions about the Company that may cause our actual results, levels of activity, performance or achievements to be materially different from any other future results, levels of activity, performance or achievements expressed or implied by such forward-looking statements. In some cases, you can identify forward-looking statements by terminology such as "may", "will", "could", "would", "expect", "plan", "anticipate", "believe", "estimate", "continue", or the negative of such terms or similar expressions. Factors that may cause or contribute to such a discrepancy include, but are not limited to, contract cancellations, failureto obtain new contracts, political unrest in customer countries, unfavorable results in litigation, general economic conditions, and those issues identified from time to time in our Securities and Exchange Commission filings and other public documents, including, without limitation, our Annual Report on Form 10-K for the fiscal year ended February 27, 2004.
Contact: Duane D. Deaner, CFO, ph.: 215-355-9100x1203. fax: 215-357-4000
ETC Internet Home Page: http://www.etcusa.com
* * *
AirplanePDQ Version 5 Takes Off-- July 27, 2004
Laurel, MD - Today, DaVinci Technologies, developers of the award-winning AirplanePDQ software, began shipping its 5th major release of the program.
Dr. Gil Crouse, Jr. founder and president of DaVinci Technologies said, "Initial response to the new version from our users has been outstanding. We've incorporated many suggestions from our users to make this the best AirplanePDQ yet." One customer and beta tester, a mechanical design engineer with over 20 years experience in the aerospace industry, commented, "I think these products [AirplanePDQ and Airfoil Optimizer, a companion product] are the best design tools available to the layman for preliminary aircraft design. They are easy to use, relatively bug-free, well documented and an excellent value."
With new FAA rules for light-sport aircraft taking effect September 1st, the AirplanePDQ software is well positioned to help designers and aviation enthusiasts create new designs to meet the expected demand in the light-sport aircraft category. Said Crouse, "The new light-sport aircraft category has the potential to revolutionize the experimental and light, general-aviation industry. AirplanePDQ is ideally suited for development of this type of aircraft and will help designers produce safe and appealing light-sport aircraft."
About the New AirplanePDQ v5
The new release of AirplanePDQ takes the product well beyond last year's version that featured stunning three-dimensional graphics; this year's release of AirplanePDQ v5 incorporates numerous additional features into its award-winning design. New three-dimensional lofting capabilities allow for easier fuselage shape development. Responding to popular demand, the new AirplanePDQ offers more flexibility with support for complex wing shapes such as strakes and winglets. With the ability to insert wings or stabilizers anywhere on the design, it can model almost any aircraft configuration.
Previous versions of AirplanePDQ focused solely on powered aircraft, but the new version can be used for sailplanes and will calculate lift-to-drag ratios and minimum descent rates. The new version continues its support of the X-Plane flight simulation program and offers compatibility with X-Plane version 7. Even with all of these great new features, AirplanePDQ is easier to use than ever and has a significantly expanded online help system to help users take advantage of its power.
About AirplanePDQ
AirplanePDQ, first released in September 2000, is a multiple award-winning conceptual design tool for light-sport aircraft, ultralight, and experimental aircraft. Its intuitive structure is easy for amateur airplane designers to use and is praised by both amateur and professional users. It integrates aircraft sizing and analysis tools with a full-featured computer aided design package so that the designer can focus on the look and layout of the aircraft while the software performs the detailed analysis
calculations. The software assists with the initial sizing of the aircraft to achieve specified goals, with performance analysis to understand the expected flight envelope of the design, and with weight and balance to ensure that the center of gravity range of the airplane will be sufficient for the expected loading conditions.
Designed by 38-year-old aerospace engineer Gil Crouse, Jr., Ph.D., AirplanePDQ enables would-be airplane designers to experiment with their design ideas for a completely new airplane, or analyze modifications to existing designs. "This may not be 'airplane design for dummies,' but it's pretty close." Crouse said, "What we 've done is take the tedious computational work out of the design process so that a person without an engineering background can enjoy experimenting with various design ideas without getting bogged down in the math."
The new AirplanePDQ can be ordered from the company web site at www.davinci.aero or via phone at (877) 334-4731 or (301) 317-6568. About DaVinci Technologies DaVinci Technologies, Incorporated was formed in 1999 and is based in Laurel, MD. The company develops and markets computer software for aircraft designers and aviation enthusiasts. More information is available at the
web site: www.davinci.aero or through email at info@davinci.aero. For an interview or for further information, call (301) 317-6568.
* * *
Hawking Loses Bet on Black Holes—July 22, 2004
Astrophysicist Stephen Hawking lost a seven-year-old bet with fellow astrophysicist John Preskill when he presented his latest findings on black holes at the 17th International Conference on General relativity and Gravity in Dublin, Ireland.
In his new paper, Hawking revised his previous theory, which stated that matter sucked into the bowls of black holes was forever destroyed, a contention disputed by Preskill, who stuck with the traditional understanding that matter and energy can never ultimately be destroyed. At one point, to circumvent this difficulty, Hawking had surmised that the ill-fated matter traveled in a parallel universe within the black hole.
"There is no baby universe branching off, as I once thought. The information remains firmly in our universe," Hawking told the group of 800 scientists from 50countries. "I sorry to disappoint science fiction fans, but if information is preserved, there is no possibility of using black holes to travel to other universe.
"If you jump into a black hole, your mass energy will be returned to our universe, but in a mangled form, which contains the information about what you were like, but in an unrecognizable state," he said with a curious smile.
Hawking, a professor of mathematics at Great Britain's famed Cambridge University, gained international celebrity with his enormously popular book A Brief History of Time, in which he sought to explain everything about the universe in layman's terms.
"It is great to solve a problem that has been troubling me for nearly 30 years, even thought the answer is less exciting than the alternative I suggested," Hawking said.
But John Preskill, who accepted a copy of Total Baseball: The Ultimate Baseball Encyclopedia from Hawking for winning their friendly wager, remarked that although he was pleased to have won the bet, "I'll be honest; I didn't understand the talk."
* * *
Beam Me Up, Scotty!—July 20, 2004
Beloved chief engineer on the starship Enterprise, actor James Doohan has been diagnosed with the early stages of Alzheimer's disease, according to his agent. The 84-year-old Doohan, who lives in Redmond, Washington, is still feisty enough that he plans to attend a 'Star Trek' fan convention in late August. Shortly thereafter, in what will likely be his last public appearance, he'll receive a star on the Hollywood Walk of Fame, a fitting end to a career that has spanned several decades and the breadth of the known universe.
CONGRESSMAN SUPPORTS WARBIRD RESTORER--June 1, 2004
When the Navy tried to take his partially restored 60-year-old Brewster F3A-1 Corsair that he'd recovered at great expense and difficulty from a North Carolina swamp in 1991, Lex Cralley, 49, of Princeton, Minnesota, swore an oath: He'd fight tooth-and-nail, or until he went broke, before he'd give up his beloved Corsair.
Just in time, Rep. Walter Jones (R-N.C.) has introduced a private amendment to the nation's huge defense spending bill that would grant title of the aircraft to Cralley.
But while Cralley's attorney said the Navy would go along with the amendment, the Department of Justice has thrown another roadblock in Cralley's way. They say another lawsuit, initiated by the Office of the Underwater Archeologist, is ongoing and they intends to pursue the matter. Department of Justice spokesman Charles Miller said Cralley must respond to the suit by July 6 or risk losing the rare warbird.
Corsairs, designed by Chance Vought during WWII, were actually built on license by several other aircraft manufacturers, among them Brewster of Long Island City, New York. Goodyear, in Akron Ohio, also made Corsairs under license. Vought-produced aircraft were given the designation F4U-1, Brewster-built versions were designated F3A1, and Goodyear versions FG-1.
DOPPELDECKER Announces New Product Line--May19, 2004
DOPPELDECKER (R), the aviation clothing company, is proud to offer the best aviation ties in America.
They are created by our New York based designer Christina Cheng and are now offered in over 30 different
styles. With the addition of the F-86, F-4, Concorde, Gulfstream and King Air silk ties the collection now offers a
wide variety of classic aircraft styles.
The collection is available in aviation museum stores (such as the Smithonian's National Air and Space
Museum), at pilot stores nationwide, and directly through DOPPELDECKER's website www.2decker.com
Commander of Memphis Belle Dies-- May 16, 2004

ASHEVILLE, N.C. -- Col. Robert Morgan, commander of the famed Memphis Belle B-17 Flying Fortress bomber immortalized in the 1990 movie of the same name, died late Saturday of complications from a broken neck, which resulted from a fall following an air show at Asheville Regional Airport. He also had pneumonia.
Morgan and crew were the first to fly 25 harrowing missions over occupied Europe during WWII, the required number before a crew could be rotated back to the States.
Upon return in 1943, the crew launched on a very successful War Bond tour, after which Morgan returned to flying duties with a B-29 outfit, where he again completed 25 missions, among then the first Tokyo raid.
After the war, Col. Morgan told a reporter of briefing his men before the fateful final mission. "Look, guys," he told them, "if only one airplane comes back today, it's going to be us."
Morgan was hospitalized since April 22 at Mission Hospitals. He was 85.
First Female Fighter Squadron Commander--May 12, 2004
Tucson--Lt. Col. Martha McSally, 38, will assume command of the 354th Fighter Squadron at Davis-Monthan Air Force Base later this summer. Iraq and Afghanistan veterans, the squadron flies the A/OA-10 "Warthog" tank killer attack aircraft.
McSally made international news in 2002 when she sued Secretary of Defense Donald Rumsfeld and the Pentagon over orders that female soldiers and airmen wear traditional Muslim head-to-toe robes called abayas while off base in Saudi Arabia.
The 354th employs twenty-seven aircraft and more than sixty pilots and crew.
MegaScenery USA Volume 3: Northern California/San Francisco Goes Gold--May 10, 2004
True to life scenery of "The City By The Bay" and Surrounding Areas for Microsoft Flight Simulator
SOUTH CAROLINA, 11 May 2004. MegaScenery publisher, PC Aviator, today announced that the third volume of MegaScenery – Northern California, featuring San Francisco, Sacramento and 38,000 square miles of surrounding countryside has gone gold and is scheduled for release on 7 June 2004.
Bigger, better and prettier than previous MegaScenery areas, MegaScenery Volume 3: Northern California has been recreated from 5 meter satellite imagery and puts Microsoft Flight Simulator pilots up there in the skies above this diversely picturesque region of the United States. San Francisco, Oakland, Sacramento, down to Monterey bay and inland to the W120.5 longitudinal line…. and everything else in between: Flight Simulator pilots will be able to take to the skies and navigate this expansive scenery identifying everything down to individual rooftops on houses.
Aerosoft Australia, developers of MegaScenery, have continued to enhance MegaScenery technology and this volume comes with even further improved night scenery as well as now incorporating high-resolution 30 meter terrain mesh for elevation data resulting in even more realistic mountains and valleys. While there are other photorealistic scenery products available only MegaScenery provides complete night scenery for the entire area so users get both a day and night VFR flying experience.
Just like the previous titles and all future MegaScenery titles, the Northern California package comes with all of the real world aeronautical charts required to fly the scenery [like a pilot] and to identify all of the major landmarks the scenery contains.
MegaScenery USA 2004 Volume3: Northern California is scheduled for release on 7 June 2004. The Lite version is priced at just $29.95 and the Full Kit (charts included) is $39.95.
Consumers can order direct online or get more information including a demonstration video at http://www.megascenery.com.
Air Show Favorite Ian Groom Dies in Accident--May 1, 2004
Nationally known air show favorite Ian Groom, 58, of North Naples, Florida, was killed while practicing for the McDonald's Air & Sea Show on May 1.
Witnesses say his Russian-built Sukhoi 31 single-seat aerobatic plane crashed around 2:15 p.m. while practicing his signature flat spin about 2,000 feet off the beach in Broward County.
U.S. Coast Guard divers recovered Groom's body. But the cause of the accident is unknown, though many in the aerobatic community expressed doubt that the cause was pilot error. An autopsy and toxicological screen will be performed, but results won't be known for weeks.
Groom, a South Africa native who became a U.S. citizen in 1995, generously donated his time and skill to help train pilots for the Department of Homeland Security's Bureau of Immigration and Customs Enforcement after September 11, 2001, training nearly 100 pilots since then on recovery techniques for out-of-control aircraft.
Owner/operator of Ian Groom Air Shows Inc., based at the Immokalee Regional Airport, he'd been flying for over twenty years.
Lt. Colonel Francis S. "Gabby" Gabreski, "America's Greatest Living Ace," Dead at 83 (March 2002)
Lt. Colonel Francis S. "Gabby" Gabreski, who achieved the status of ace in both World War II and Korea, died at his home in Dix Hills, New York on January 31 of an apparent heart attack. He was 83.
After witnessing the attack on Pearl Harbor from his first station at Wheeler Field, Gabreski, of Polish descent, moved on to Europe where he flew Spitfires while assigned to RAF Polish Squadron. In February 1943, he rejoined American forces, flying P47 Thunderbolts with the 56th Fighter Group of the Eighth Air Force.
Gabreski ran riot over the skies of Europe from August 24, 1943, to July 5,1944, shooting down 28 Luftwaffe aircraft. But his 193rd mission proved to be his last of the war. He crash-landed his crippled P-47 and was captured near Koblenz, Germany, spending the next 10 months as a prisoner of war.
Duty called again for Gabreski in 1951 when America's "police action" in Korea turned ugly. Flying North American F86 Sabre jets, he soon downed his first Sovietbuilt MiG15, and by April 1952 he had become an ace. By war's end he had a total of six confirmed kills, all MiG-15s. He shared one additional victory. His efforts in Korea catapulted Gabreski into the ranks of the rarest of the rare—an ace in two wars.
Known for many years after his retirement from the U.S Air Force as "America's Greatest Living Ace," remained active in the aviation industry and also served as president of the Long Island Rail Road.
HERBERT HOUCK DIES AT 86. NAVY PILOT LED BATTLE TO SINK YAMATO (March 2002)
Herbert Houck, a Navy pilot who led the final assault that sank Japan's gigantic battleship Yamato in the waning days of World War II, died Feb. 24 in Cape Coral, Fla. He was 86. Cause of death was not reported.
Capt. Houck was an Ace with six Japanese planes to his credit. He earned the Navy Cross three times over.
Commissioned shortly after Pearl Harbor, the Yamato and a sister ship were, at 72,000tons, the largest battleships in Japan's naval arsenal. Outfitted with nine of the largest guns ever set aboard a ship--each could fling a truck-sized 3,200pound armorpiercing shell over twenty miles--the Japanese juggernaut saw action in both the Battle of the Philippine Sea and the Battle Leyte Gulf.
Yamato carried only enough fuel to get to its final battle, a kamikaze effort to stop the American invasion of Okinawa in April 1945. A 1954 book later quoted its captain as saying: "What a glorious way to die! The last banzai!"
Then-Lieutenant Commander Herbert Houck would shortly oblige him. Flying from the windswept decks of the Yorktown, he led 43 fighters, dive bombers and torpedo planes in the April 7, 1945, raid, which at first was targeted at the escort cruiser and several destroyers that accompanied Yamato. But the Yamato was already badly damaged and listing 20 degrees. It was a chance he couldn't pass up.
"I approved," he said, "providing the torpedo depth was changed from 10 feet to 20 feet. That done, the torpedo would hit below the thicker armor plate. I saw the runs and figured they got at least five hits. With the 20degree listing, the torpedoes exploded right into the belly of the ship. A couple minutes later, the Yamato rolled over and blew up."
Almost 2,500 officers and crew died in the explosion. Along with Yamato, the attack sent the escort cruiser and four of the eight destroyers to the bottom.
"The explosion was horrendous," Capt. Houck wrote, "sending a huge smokeandfire ball up to my flying altitude of 1,000 feet."
Yamato's wreckage was discovered in 1985 at a depth of 1,100 feet. A memorial ceremony was held on a ship above the wreckage; and the Yamato, its crew and their ill-fated final cruise remain a subject of enduring fascination for modern Japanese