Publisher's Closeout. Norman Rockwell Prints. Originally $300.
Special Promotional Price: $75
Aerosphere is exiting its art publishing business. Now, while they last, you can own one (or more) of these truly beautiful fine art prints at wholesale prices! Get yours now for $75. See details below. Dealers welcome!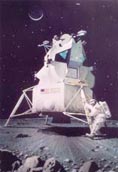 Celebrate America's Greatest Moment: Manīs First Step on the Moon
Relive America's greatest adventure with this fabulous Norman Rockwell Limited Edition Lithograph Man's First Step on the Moon.
No one but Rockwell could have rendered with such poignancy that awesome moment for all mankind on July 20, 1969, when former naval aviator and test pilot Neil Armstrong spoke those immortal words: "Thatīs one small step for a man... one giant leap for mankind," as he placed man's first step on the moon.
Man's first Step on the Moon is a strictly limited edition of 1000 fine art prints that has been advertised in the Smithsonian Air & Space and Final Frontier magazines for the original $300 offering price.
If you've ever wanted a real first-edition Norman Rockwell, here's your chance. On a first come, first served basis, you can own one or more prints for $75 each, plus $14.95 S&H. (Multiple prints do not add to shipping and handling unless ordering over10 prints.)
Authorized by the Norman Rockwell Estate
Aerosphere brings you Man's First Step on the Moon in cooperation with the Norman Rockwell Estate Licensing Company. Though Rockwell himself signed the painting, the prints are not re-signed in pencil, as is usually the case with limited edition prints, because Norman Rockwell died in 1978. However, by arrangement with his estate, the prints carry not only a print number but also a unique serial number. Each print comes with a Certificate of Authenticity guaranteeing your print and serial number are unique and that the reproduction was authorized and inspected by the Rockwell estate. It further guarantees that no other fine art print of this painting will ever be made.
Original Painting Owned by the SMITHSONIAN INSTITUTION
Rockwell's original oil painting is now a part of the SMITHSONIAN National Air & Space Museum's permanent collection. One of the very last remaining unpublished Rockwell paintings, Man's First Step on the Moon is said to have been one of Norman Rockwell's favorite paintings. Certainly, it brings to life all the danger, fear and human drama that this historic adventure evoked in a nation that held its breath as Armstrong's foot descended the last few inches to meet the virgin surface of the mighty moon. There will not be another endeavor like it until the first manned shot to Mars! And who knows how far in the future that will be?
ONLY 1000 Prints Offered Worldwide
One thousand prints comprise this strictly limited edition. Each print measures approximately 19" x 28", with an image size of 16" x 25", and is produced on the highest quality acid-free archival paper. All plates, negatives and other material used in the printing process have been destroyed, guaranteeing the continued appreciation of this valuable collector's art piece. Each print is numbered and carries a unique serial number. A Certificate of Authenticity, guaranteeing that the Rockwell estate has approved the edition, accompanies each print.
A Rare Investment Opportunity
Many of Rockwell's best-known prints came from his Saturday Evening Post covers (though Man's First Step on the Moon is from a LOOK magazine cover). For Rockwell the Post covers ensured an exposure that has endeared him to generation after generation; for the Saturday Evening Post it meant the sale of an extra 50,000 to 70,000 copies every time a Rockwell cover was published.
In all, Norman Rockwell produced over 300 paintings for Post covers. Perhaps the most successful of these is his 1943 series, "The Four Freedoms" (of speech, of worship, from want, from fear). These were so enormously popular that the Treasury Department sent the paintings on tour to help sell war bonds. The tour succeeded beyond all expectation, with Americans buying over $135 million in bonds on the strength of the exhibit.
Today, "The Four Freedoms" prints, if you can find one, sell individually for upwards of $8,000. In 1976, the year first published, they were offered at $200.
Check out the prices on these Rockwell prints from the Seventh Edition of The Official Price Guide to Collector Prints, published by The House of Collectibles:
April Fool, 1976; edition 260; issued at $400; current value $7,500. Puppy Love Portfolio, 1978; edition 260; issued at $1,500; current value $15,000. Top Hat & Tails, 1978; edition 260; issued at $1,000; current value $8,000.
About Norman Rockwell
When Norman Rockwell died, at 84, on November 8, 1978, his wife, Molly, remarked that he should be remembered as "...a well-known artist and illustrator." But Norman Rockwell was much more; he was America's best loved and most admired chronicler of the loves, hopes and dreams of small-town America. Back to Top
His canvases reflect an American image to be wished, America with her best foot forward, often with the gee whiz innocence in reality long ago lost.
But whether he was painting presidential portraits of an Eisenhower, a Nixon or a Kennedy, or re-introducing us to Tom Sawyer and Huck Finn, his work displayed the precision and reverence for detail that are the Rockwell hallmark. This, together with an abiding humor and empathy for his subjects, infused his work with that unknowable something we call genius. Thus, his work has endured in popularity and has appreciated in value year after year.
Norman Rockwell was born at 103rd Street and Amsterdam Avenue in New York on February 10, 1884. Rockwell's father was himself an amateur artist and representative to a Philadelphia cotton broker.
When he was 10, Rockwell's family moved to Mamaroneck, N.Y. During this time he attended the National Academy of Design. At 16, Rockwell left high school to join the Art Student League on a full scholarship.
His first real job, illustrating a series of children's books called "Tell Me Why Stories," led to a position with Boy's Life in 1912.
But it was in 1916 that Norman Rockwell became associated with the Saturday Evening Post, then the most prestigious magazine published for the mass market. It was to be an enduring and mutually profitable relationship. For Rockwell it ensured an exposure that has endeared him to generation after generation; for the Saturday Evening Post it meant the sale of an extra 50,000 to 70,000 copies every time a Rockwell cover was published. In all, Norman Rockwell produced over 300 paintings for Post covers.
Today, our love affair with Norman Rockwell continues unabated. Why? Perhaps because his vision of the American spirit mirrors our own. Or perhaps because his uncanny ability to find humor and value in the ordinary speaks to the heart of each of us in a way that only beauty can. Back to Top
CARING FOR FINE ART PRINTS
NEVER:
Never display your artwork in direct sunlight. All light contains ultraviolet rays that can, over time, damage the pigments and paper.
Never illuminate your print with florescent light, as this is a potent source of ultraviolet rays.
Never hang or display your art near a heat source, such as over a fireplace or near a heat register.
Never store or hang art in moist environments such as cellars, as this can promote mold growth. A consensus of museum curators recommends relative humidity in the range of 40% to 60%, but always less than 70%.
Never frame your art so that the image touches the glass. Air must be allowed to circulate to prevent condensation.
Never touch or handle art unless your hands are clean. Human body oils can permanently alter pigments and damage archival paper.
Never store prints one against the other. A sheet of acid-free tissue should separate your prints. Ideally, each print should be stored in its own separate folio.
ALWAYS:
Handle and store your prints with loving care. Treat your art with the respect that a thing of beauty and lasting value deserves. It's your investment, so protect it!
Your Satisfaction Fully Guaranteed
Aerosphere makes the following guarantee on any of its fine art prints or posters: If you are not completely satisfied with your investment, you may return it within 30 days for a full refund, provided the print has been returned undamaged in the original packing material and has been insured for the return. In other words we have to be able to resell the item, so it has to be in original condition. More info.
Bona fide art dealers can receive an additional wholesale discount applied to the special On-line offer! Please email sales@aerosphere.com for additional information.
For guaranteed secure

Credit Card orders click here or e-mail info@aerosphere
OR
Just send check or money order Only $75 plus $14.95 for shipping and insurance ($89.95 total) to:
AEROSPHERE
4422 Cobalt Drive
Harwood, MD 20776