October 2014 Mile-High Maiden™
Now, now. Don't panic. This is not an attempt at faux diversity. No affirmative action here. And it's not the first shot in a "War on Men." We just needed the "World's Most Interesting Man" (WMIM) to make a piercing point, an impassioned juxtaposition of powerful and influential forces. Compare and contrast!
Jonathan Goldsmith
Yes, he is a man of extraordinary appetites, abilities and a lust for novel sensations. His exploits are legend; he is a true daredevil. He surfs killer waves. Skydives from airplanes. Bungee jumps from the tallest bridges and buildings. Hunts the world's most dangerous animals. A world-class athlete, he once bench pressed two young East Asian women, each woman being seated in a chair. Oh, and did we mention he has a way with the ladies? He is ever in the company of the most intelligent and beautiful women around the globe--in other words, he has a connoisseur's taste for Mile-High Maidens.
Nevertheless...
While his accomplishments are admittedly fabulous, has anyone offered so much as a pittance for a scrap of memorabilia reflecting his achievements? Is his "brand" really valuable?
Well this month's MHM can make that claim and much, much more. One of her dresses has sold at auction for $480,000. A less valuable—because she wore it much less—rendition of the same blue and white checkered dress will be auctioned November 24 at Bonhams auction house in New York City. Low estimates say it is expected to bring in at least $200-300,000.
Best of all, in the collectables sense, a pair of her ruby red shoes were appraised at $2 million to $3 million but never went to auction. Instead many wealthy admirers chipped in an undisclosed mountain of cash and then donated her shoes to the Academy of Motion Picture Arts and Sciences. Another pair of the same design resides in the Smithsonian's National Museum of American History in Washington, D.C.
But wait! There's more (as they say in those overblown TV ads). Her most famous song is number one on the "Songs of the Century" list compiled by the Recording Industry Association of America and the National Endowment for the Arts. And The American Film Institute marks this timeless ballad the greatest movie song of all time on the list of "AFI's 100 Years...100 Songs."
Her truly greatest, truly cosmos-shattering contribution is…well, you just have to wait until the very end.
.
.
.
.
.
.
.
.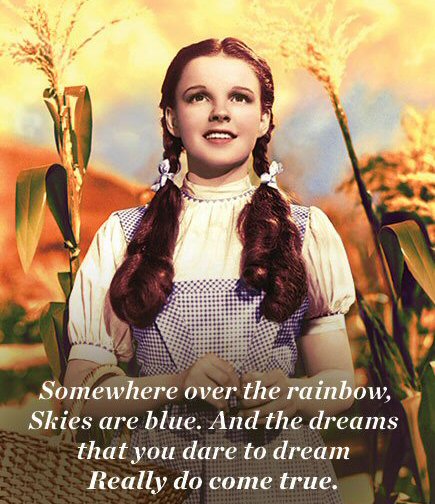 Remember that wonderful song? "Over the Rainbow." Remember Dorothy Gale?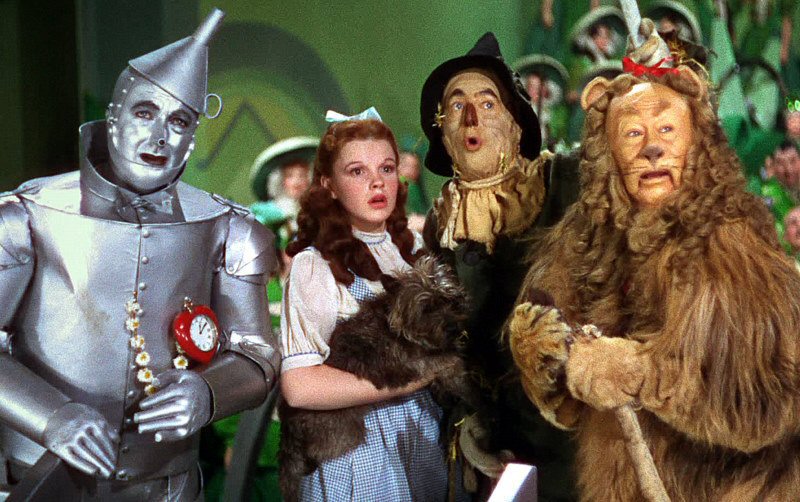 Dorothy with a few friends...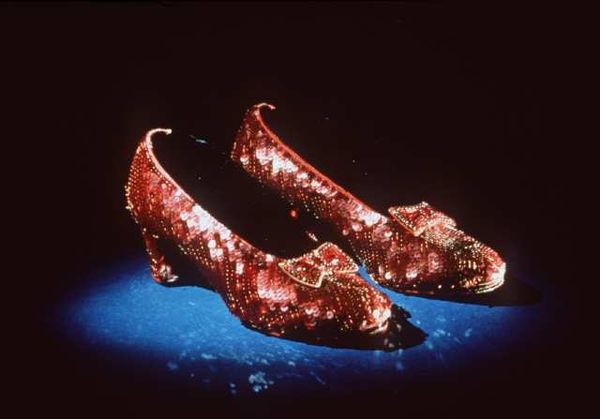 Those expensive shoes...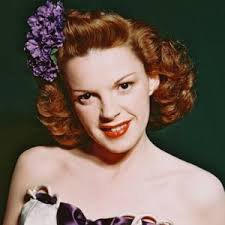 Dorothy's alter ego--Miss Judy Garland
But Dorothy's greatest achievement? The one we promised? Well, she didn't do it alone. It took some help from those friends in the picture above--the Tin Man, the Scarecrow and the Cowardly Lion--and her delightful little pup, Toto.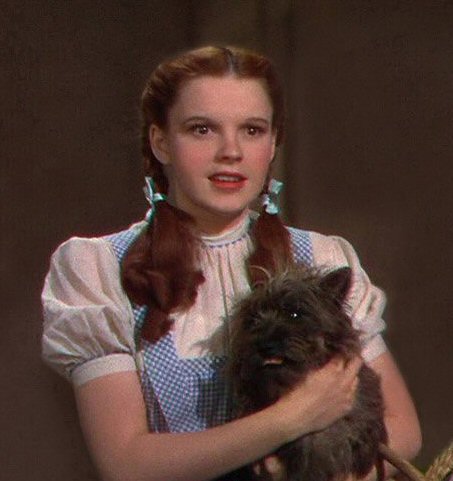 When they entered the Emerald City at the end of their journey in the movie The Wizard of Oz, Dorothy and companions answered the most perplexing, lingering question that mankind has ever posited:
What came before the BIG BANG? Or if you prefer, What caused it?
The answer was there, behind the curtain. And when brave little Toto pulled the curtain back, there it was, bigger than life. Wow! To reveal the secret, just tap your heels together three times and say, "There's no place like home." A second option is to click on the picture of Toto and Dorothy above. We guarantee you will be surprised.
P. S. What connection does she have to flight? Well, just read this short clip about the plot of The Wizard of Oz: "She races home as a powerful tornado develops. Unable to get into the storm cellar, she seeks safety in her bedroom. A wind-blown window sash hits her head and she falls unconscious on her bed. She wakes to find the house spinning in the air, held aloft by the twister."--Wikipedia
P. P. S. Okay, so she later woke up. Yes, it was only a dream...Sheesh!...