Sample UFO Updates:
Reader Report: Aerosphere readers tell their stories.
What Really Happened at Roswell, NM, in 1947?

Former Israeli soldier snaps this picture. But what is it? Israeli UFO.
Did this Guatemalan family see live aliens being transported by military vehicle just outside Roswell? Aliens Live In Roswell?
Missouri Police Officers sight UFO, one snaps a picture of UFO... Go to UFO Update.
New UFO Sighting in China may be tied to reported alien abduction... Go to UFO Update.
Mercury astronaut and aviation great Gordon Cooper may have seen a UFO (or two) but it wasn't during his Mercury or Gemini flights... Go to UFO Update.
Hereīs a scenario about the EgyptAir Flight 990 disaster that the NTSB would never dare reveal--even though they know itīs a possibility.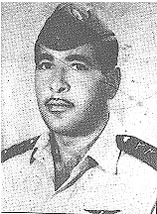 Author John Carlisle speculates about the role a UFO could have played in one of this decadeīs most mysterious air mishaps. Go to UFO Update.
Pictured at right is Gameel Batouti, believed to be at the controls of EgyptAir Flight 990 when it began its fatal plunge into the cold North Atlantic on October 31, 1999.