George Bush & "The Boys"
at the presentation of
Lt. (j.g.) GEORGE BUSH FLYING A GRUMMAN TBM AVENGER
to the Smithsonian Air & Space Museum
Left to right: Frank Bannack, Jr., then-president of the Hearst Corporation; then-Secretary of the Navy, John F. Lehman; Admiral Edward H. Martin, then-chief of naval operations-air warfare; Captain Ted Wilbur (U.S.N. Ret); and then-Vice President George Bush at presentation ceremonies marking the 75th anniversary of naval aviation at the SMITHSONIAN National Air and Space Museum.
An Exciting Offer
for Serious Art Collectors
and Military History Buffs
This fabulous collector edition print is available now for a limited time at the special online price of

ONLY $50, plus $14.95 S&H. Order now!
Lt. (j.g.) GEORGE BUSH FLYING A GRUMMAN TBM AVENGER is a great and powerful tribute to a true American hero. And an historical document of enduring interest and value. It's an investment--and conversation piece--you can proudly display and enjoy for generations to come.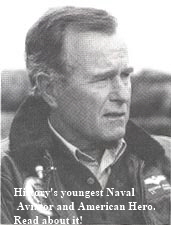 Originally commissioned by the Hearst Corporation, the painting was intended to commemorate the 75th anniversary of naval aviation. It was unveiled by then-Vice President George Bush at a gala ceremony at the National Air and Space Museum in Washington, D.C. Such other notables as Secretary of Defense Casper Weinberger and Navy Secretary John Lehman were also in attendance. (See caption of group picture.)
Only 1000 Prints Offered Worldwide
One thousand prints comprise this strictly limited edition. Each print measures approximately 35" x 30", with an image size of 20" x 24" and is produced on the highest quality acid-free archival paper. Only one other reproduction in print form exists and that is owned by President Bush. All plates, negatives and other material used in the printing process have been destroyed, guaranteeing the continued appreciation of this valuable collector's art piece. Each print is signed and numbered by the artist, and each print is accompanied by a certificate of authenticity.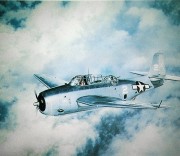 A spectacular example of photo-realist art, Ted Wilbur's original oil remains in the permanent collection of the SMITHSONIAN National Air and Space Museum. For many years, it hung at the entrance to the Naval Air Hall, before being returned to storage. The painting depicts Lt. (j.g.) George Bush as he appeared in June 1943 after his commissioning, at age 19, as the youngest naval aviator in history. Click for larger picture page.
Yes, even if you're a Democrat and didn't vote for him, there's no denying George Bush was a true American World War II hero. As a TBM Avenger pilot with VT-51, he flew 58 combat missions off the decks of the USS San Jancinto, made 126 dangerous aircraft carrier landings, and on June 14, 1944, in the middle of the great air battle that became known as the "Marianas Turkey Shoot," he was forced to ditch his plane with only scant time to alert his crew--but enough time for all to escape unharmed.
A short while later, still flying the "Turkey," as the pilots affectionately termed the Avenger, he was shot down by the Japanese while on a bombing mission over Chi-Chi-Jima, in the Bonin Islands, during our campaign in the Pacific. Unfortunately and unlike in the earlier incident, he was the only one to survive.
After being rescued by the submarine USS Finback, Lt George Bush was awarded the Distinguished Flying Cross for his bravery and gallantry in this action. In addition to the DFC, he collected three air medals during his tour of duty. Back to Top

"... a decoration awarded to members of the U.S. armed forces for heroism or extraordinary achievement in aerial flight."-- WEBSTER'S DICTIONARY
George H. W. Bush's
WORLD WAR II COMBAT CITATION
"Opposed by intense antiaircraft fire, his plane was hit and set afire as he commenced his dive. In spite of smoke and flames from the fire in his plane, he continued in his dive and scored damaging bomb hits on the radio station before bailing out of his plane. His courage and complete disregard for his own safety, both in pressing home his attack in the face of intense and accurate antiaircraft fire and in continuing his dive on the target after being hit and his plane on fire, were at all times in keeping with highest traditions of the United States Naval Service."
LT(j.g.) George Bush, an American Hero

Youngest Designated Naval Aviator
Decorated War Hero
Congressman
United Nations Ambassador
CIA Chief
President of the United States of America
Lt. (j.g.) GEORGE BUSH FLYING A GRUMMAN TBM AVENGER
This fabulous collector edition print is available now
for a limited time at the special online price of ONLY $50.00 Plus $14.95 shipping & insurance. Cockpit detail page.