Our Cover Girl for June 2005
When staffer Lilah Brinkman invited her friend Molly (for the sake of modesty, not her real name) to a wine-tasting party at a local vineyard, she never imagined such an inexplicable outcome.
Molly, you see, is a blonde who by reputation is an accomplished skydiver and a member at a nearby nudist colony.
(Oh yeah. Right. We know. You're thinking, "Here you go with the anti-blonde stuff again." Well... we'll let you draw your own conclusions. But while you make up your mind, you might want to check out some new blonde jokes.)
Anyway, Lilah's friend quite reasonably inquired as to when she should arrive.
"Oh, just drop in anytime," Lilah replied.
Sheesh!
As they say, a picture is worth a thousand words, so we won't go on and on. Our Mile-High Maiden for June.
June's Mile-High Maiden™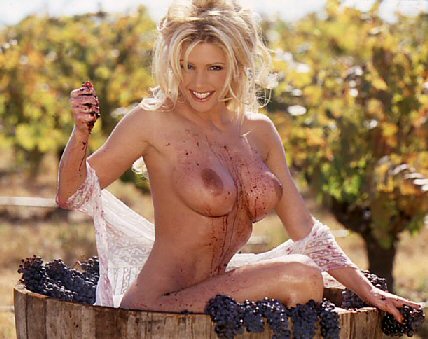 Who'd have guessed that when our staffer Lilah Brinkman told her friend Molly to "just drop in" at a local vinyard's wine-tasting party she'd be taken literally. But then, as you can see, Molly is a blonde. And oh what a blonde she is!